Summer Lawn Care Advice from Lawn Connections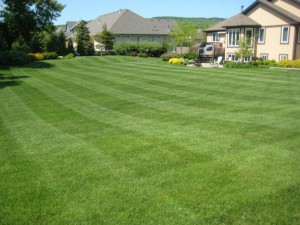 Summer has arrived and that means lots of suns and hot weather in North Texas. While hot summer days bring fun-filled outdoor activities, they can take a toll on your lawn leaving brown spots, dead grass, and a less than perfect appearance for your home. At Lawn Connections, we think a little lawn maintenance goes a long way to improve your summer lawn care.
Taking care of your lawn involves planning and work to keep it healthy and green. A healthy lawn can resist damage from unwanted weeds, insects, and disease. Here are some tips to follow to keep your lawn looking its best this summer.
Choose the Right Grass
It's important to choose the best type of grass for the climate you live in. This will ensure the best growth and appearance all year. Each Fall, over-seed the lawn to help build thicker grass that will crowd out weeds. If you don't know the best type of grass to use, Lawn Connections will gladly come to your home and advise you.
Make Sure Your Soil is Healthy
Your soil needs to have the right pH balance, texture, and nutrients for healthy grass. Do a soil analysis by using a soil analysis kit you can purchase from most hardware stores.
Water Regularly
Water early in the morning when the soil absorbs and retains more water. Don't water in the heat of the day, or wait until the soil is very dry. Don't let the lawn turn brown and then try to water it back to a green condition. This depletes energy reserves and stresses the grass.
Keep the Grass Longer
Keep the grass from 2 ½ inches – 3 ½ inches long to maintain a healthier lawn through the summer. Longer grass develops deeper roots and dries out slower. Mow the grass at 3 inches or higher. If you're not sure of the height adjustment on your mower, set it as high as it will go. Lawn growth will slow down as the weather gets drier and hotter.
Clear Out Weeds and Thatch
Good lawn maintenance involves removing weeds and thatch that will prevent water from penetrating the soil and reaching the grassroots. Since this is a difficult and time-consuming job, consider using the services of a professional like Keller lawn care company
Use Mulch
You can provide added nutrients to the grass by using compost, mulch, or grass clippings.
Fertilizers and Chemicals
Before using fertilizers and pesticides, consider organic products that won't harm the environment and are safe for children and pets.
It's best to wait until later in the season, late August through early September, for seeding, weed and thatch control, fertilizing, and weed killers. For now, keep your lawn healthy with proper watering and mowing, and keep foot traffic to a minimum during the heat of summer.
A great-looking lawn is a healthy lawn. Lawn Connections can provide all of your summer lawn care and yearly maintenance needs to ensure a beautiful Texas lawn. Give us a call at 817-231-0042.