Best Landscape Designers in DFW
Are you looking for an innovative team of landscape specialists for your next big project? You have come to the right place! Lawn Connections is a proud company offering innovative and top-notch designs and other services related to landscape design. We believe in a collaborative process between our experts and our clients so that the personality of any building, park, sports arena, or home is brought to the forefront in a way that best represents you. Our experienced landscapers use excellent communication and problem-solving throughout the process to ensure you get the final product you deserve and love—no matter if it takes days or weeks or months!
Landscape design can be a stressful and challenging process, but our experienced and ground-breaking design ideas will ensure that all visitors and business partners will enjoy themselves in a calm and vibrant environment.  We love to take on the biggest challenges for the biggest reward at the end—a happy customer!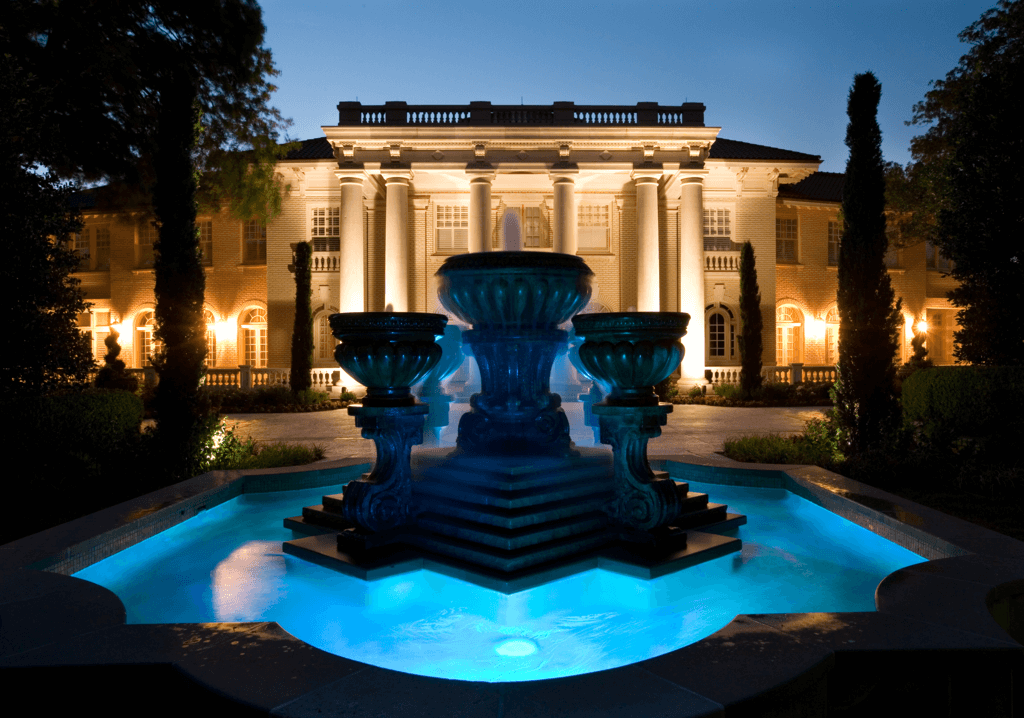 ---
What is Landscape Design?
Landscape design is a catch-all term for landscaping services performed for outdoor public areas. This could be for residential homes, historical homes, commercial properties, apartments, and anything else you can think of that would be a large undertaking. Landscape designers are trained to have a plan in mind in order to deliver a certain feel and outcome to a public space. Usually, the client has something they want to achieve, such as getting visitors to experience a certain emotion.
Landscape design is a large profession and can range in services from softscapes, outdoor living and pools. These services are the pinnacle of a public space, or a place to entertain.
Making Special Places Come to Life
When you go to a museum, visit a college campus, or walk through formal gardens, what are you thinking? Do you ever wonder how such a beautiful place came to be? All of those places were most likely designed and implemented by a team of landscape designers who discussed the ideal outcome of the project with the owners, and then undertook a complex process to plan, design, and install the wonderful environment you find yourself in.
At Lawn Connections, it is our job (from start to finish) to make sure that the client has a low-stress experience and receives a quality finished product that everyone can enjoy. Our landscape design experts are here to make your project magical.
Other Landscaping Services
Our Landscape Services
Landscape Lighting
Outdoor Living
Lawn Services
Commercial Lawncare
Outdoor Living
Landscape Installation
---
Other Benefits of Landscape Design
A calmer environment with healing gardens, containing plants that have been hand-picked for soothing the senses.
Custom features such as green roofs and plants that help with energy efficiency.
A complete site plan and a dedicate project manager so you don't have to worry.
Experienced landscapers who can help choose to easy-to-maintain outdoor plants and other features.
An extra eye when it comes to the design aspect.
Time you can spend elsewhere while we do the work.
Our friendly staff members are waiting to hear from you now. They would be happy to talk with you about all the projects we can take on and how our pricing system works. No matter the project, our experts can help you. Contact us now by calling 972-680-8878.
---
Expert Landscape Installation in Dallas – Fort Worth
When we think about Texas, a lot comes to mind. No matter which way we look at it, Texas is a beautiful place for you and us to call home. Texas is a place to be proud of, with landscapes ranging from oak forests, to rolling hills, to those expansive grasslands and fields that make this state ideal for those who love wide open spaces. Our homes should reflect the beauty and elegance of our natural Texan landscape and thankfully, our natural environment provides an ideal setting for healthy plants and amazing landscapes right in our very own backyard!
The pride you take in your home is reflected in the types of landscaping you choose to install in your front and back yards. Many homeowners want to take pride in their yards, and they seek out the help of landscape installation professionals to make their vision come to life. The challenge, however, is in making the tough choices about which direction to go in terms of design and service. The most common and questions seem simple enough at first, but when you start making your final plans the simple questions can be the most difficult ones to answer.
We make the hard questions easy and help you decide things like:
What kind of plants do you want for your yard?

What are the prices for professional landscape installation services?

How do I find a good, reliable, and trustworthy landscaper to help me with this work?
Our Dallas Fort Worth area landscape installation is carried out by experts you can trust, and we are always happy to lend a hand to a homeowner in need of advice.
Choosing the Best Landscapers for You
Your home is important to you. How it looks reflects directly upon your personality. This is why you are looking for a landscaper in the first place: to give that stunning first impression that lasts in your neighbors' and friends' minds. Like most homeowners, you likely have a vision of what you want your lawn or yard to look like. Whether it involves a garden, a place for your family to play, or a place of entertainment for friends and family, you will need help to complete this vision and make it a reality. This is where Lawn Connections comes in. We can help you make your dreams come true when it comes to your home landscaping needs.
However, how do you know that you have made the right decision? There are dozens, possibly hundreds, of landscapers to choose from in the Dallas Fort Worth area. You need to know what sets them apart, so that you know you can trust the landscapers you choose with your yard and with your home. The last thing you need is to invest your time and money in something that doesn't get you exactly what you wanted.
Our professional landscapers at Lawn Connections are expert at what they do. We only hire landscapers who are experienced and skilled, and our team is always receiving extra training in the current trends and needs for landscaping in the Dallas Fort Worth area. When you want to choose a landscaping company you can count on, look for these signs:
Many years of experience

Free installation quotes

A landscape design team that can help you through the whole design/install/maintenance process

A track record of excellence that can be verified through references and referrals

Top notch customer service
Creating Your Perfect Vision
Landscape installation is an art. Everything has to be placed just right in order to fit into the creation that you want for your home. You want a landscaper who knows how to work with different plants heights, colors, textures, growth rates, and flowering cycles to ensure your garden looks amazing year-round. Whether you have a small lawn that needs some green elements, or a sprawling backyard with fountains and flowers, our experienced team of landscapers can help you decide what is right and when to implement your vision. We only do the work you approve, and we can guarantee a finished project you will love and that your friends and family will envy.
Our friendly landscapers will take the time to sit down with you and discuss what you want, providing you with expert advice and guidance as you make your decisions. We will then draft a plan to get you a landscaped yard that will not only make you happy, but will also be easy to maintain and care for in the humid, hot environment of North Texas!
Landscape Design
Landscape Lighting
Landscape Borders
Outdoor Living
Lawn Services
Commercial Lawncare
Get a Landscape Installation Quote Today from Lawn Connections
What are you waiting for? Lawn Connections is waiting for your call! We're ready to talk with you about creating the perfect landscape for your home and family. Landscape installation is our specialty, and we would love to help you make your dream yard a reality.
The best part is: we can come to your home and discuss options while walking your yard with you. We then can give you a no-obligation landscape installation quote so that you can decide what budget is the most appropriate.
Call us today to make an appointment and take the next step towards a lawn you love. Dial 972-680-8878, or contact us using our convenient online form now.
---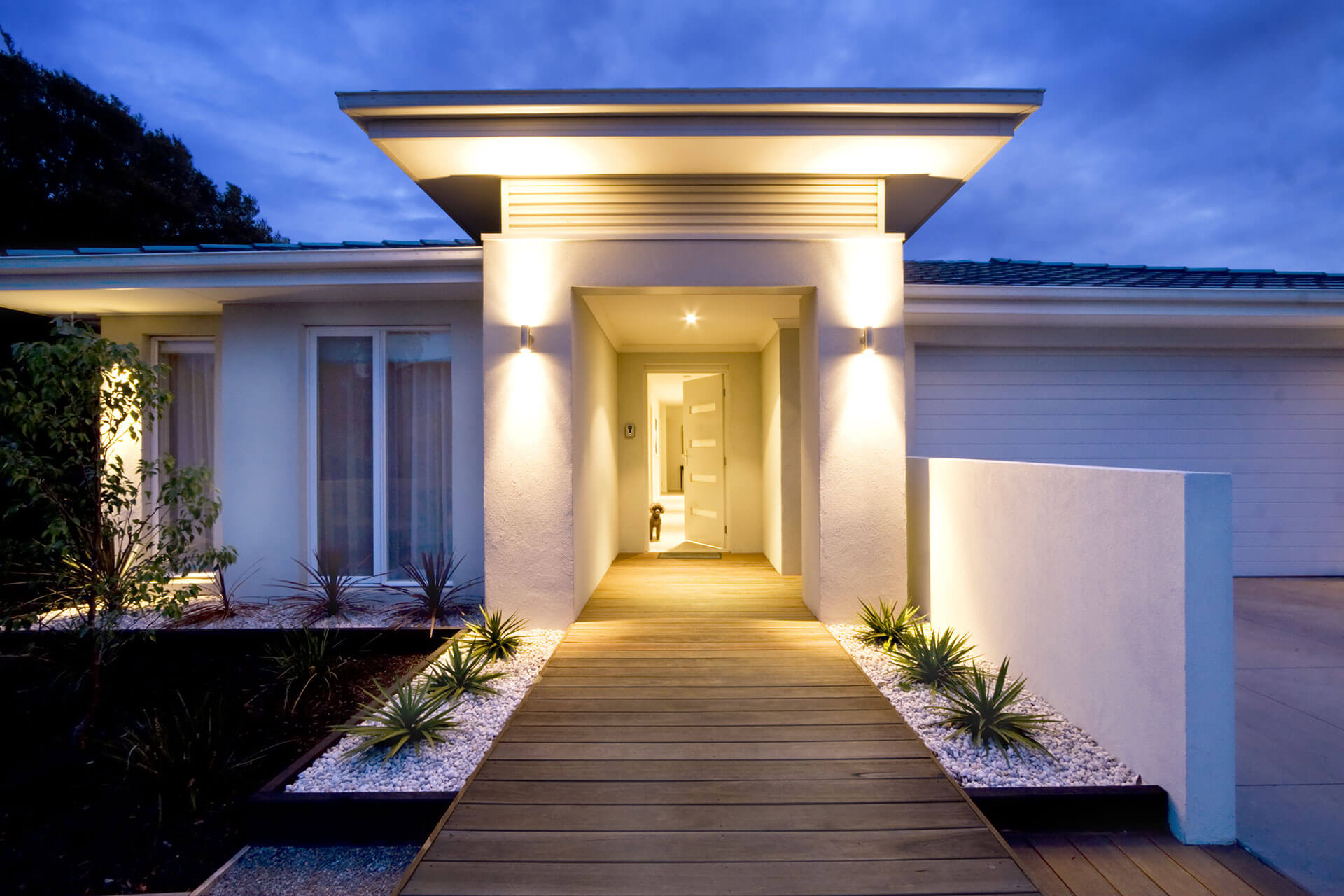 Best Outdoor Lighting Installation Services in DFW
Lawn Connections believes in delivering the whole package to you in one place. Why should you have to go to multiple companies for all of your landscaping needs? That can get exhausting and costly. Instead of all the trouble, you can come to a place like Lawn Connections where we can provide all the aspects of landscaping to your Dallas home, including landscape lighting installation and design.
Our outdoor lighting pros can tackle your landscape lighting project from start to finish, no matter your goal. We offer a variety of selections to fit your budget and style. We believe in taking things step-by-step, which is why we have built a foolproof process when it comes to landscape lighting for our clients.
Our process begins with design, because we know it is important to get everything just right for you and your precious home. We sit down with you to help you find the right products to highlight your yard or lawn's best features, or to protect your home and valuables with spotlights and other nighttime protective lighting. Once we've decided on the best option, we move on to the installation process.
Outdoor light installation can be tricky. It involves electrical wiring and handling delicate fixtures. You can trust our experienced hands, though, as we expertly install everything exactly the way we agreed in our design plan.
The approval phase is where you look over all our hard work and make sure everything is up to your standards. We would not be satisfied with a job if you weren't.
Lastly, all that's left is to enjoy the new look of your outdoor space!
Purpose of Landscape Lighting
There are two main reasons why our Dallas-Fort Worth clients choose to install landscape lighting in their lawns and yards. The first one is for aesthetic appeal and entertainment. Just because it's dark outside does not mean you can't still have a good time!
Dallas residents love to entertain, and we wouldn't want to stifle that. It's why landscape lighting is such a big business, providing just the right amount of light for romantic dips in the pool or a late-night barbecue with friends and family. Landscape lighting can provide a warm glow, so that guests can see each other without disturbing the neighbors with bright lights. It just takes great planning and design, which we have going for us at Lawn Connections. The appeal of lights can also help you highlight certain parts of your landscaping,  such as fountains and statues.
Landscape lighting also comes in handy when we're talking about the safety of your loved ones. Lighting can easily deter those who want to come onto your property when they shouldn't, sending them packing instead of into your house. Whether it's flood lights that they cannot hide from, or censor lights that respond to sound and movement to alert of an intruder, we have what you need. Your family's safety is our top priority, and we know how to strategically place these lights for maximum comfort. You can sleep soundly at night.
Landscape Lighting Options
When you first realize how many options are available for landscape lighting, you may feel overwhelmed. We see this a lot when our customers learn that we have dozens of options from top manufacturers. However, our experts can help you sort through the choices and let you know what will provide the best solutions for your needs. Options like flood lights and spot lights are great for protecting your home, whereas as path lights are better suited for entertaining guests and providing safety at night. We can go over the benefits of each option with you, as well as the pricing, so you can make an informed decision you won't regret.
Next Generation Lighting Technology
With Luxor®, lights don't simply turn on and off. They come alive. Luxor offers zoning, dimming, and color adjustment capabilities that provide virtually limitless design possibilities and on-the-fly control from your iOS and Android devices.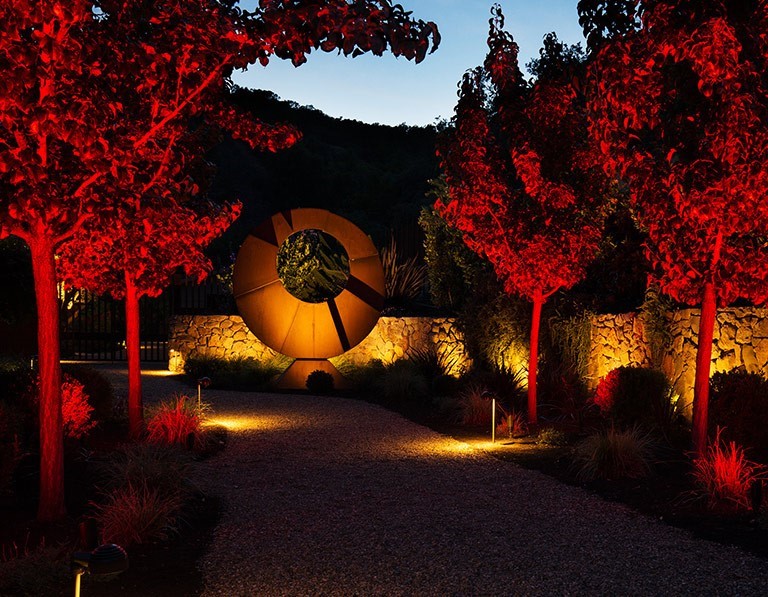 Advantages of LED Lighting
Energy Efficiency
Halogen based lights can take anywhere between 10 and 50 watts of power each, and sometimes more. LED fixtures require roughly 80% less voltage, which means lower energy costs, longer lamp life, and better environmental citizenship for the end user.
Heat Reduction
As their watt consumption is significantly higher, traditional fixtures become very hot, so much so they cannot be touched after running for only a few minutes. LEDs create heat as well, but far less than traditional lighting. This results in a longer lamp and fixture life. To ensure our products live as long as possible, FX LED feature heat sinks, as well as temperature sensors. If a fixture is getting too hot, the FX board will automatically pull back current which will actively cool the fixture down.
Consistent Light Output
Traditional lighting required multiple wires to each set of lights to ensure all lights are outputting the same level of illumination. It is a complex and time-consuming process. With FX LED fixtures, a built-in device called a driver takes all the power it is receiving and delivers it to each LED within a fixture so they are always at the same light level, regardless of the voltage supplied.
Fixture Life Length
Depending on the application LEDs can last 50,000 hours or more. At the end of their life they don't just burn out like a traditional lights. LEDs slowly dim over time and at very low levels, so even after 50,000 hours of use in most situations LEDs will continue to illuminate sufficiently.
A Professional's Game
Always remember that Landscape Lighting is an art, and just like an irrigation system, it requires a professional to plan, install, and maintain. In order to achieve safe, optimal, and long life from a lighting plan, a qualified installer should always be consulted to create the functions that an end user is looking to get from a lighting plan.
Other Landscaping Services
Our Landscape Services
Landscape Design
Landscape Borders
Outdoor Living
Lawn Services
Commercial Lawncare
Outdoor Living
Landscape Installation
---
Call us for a Landscape Lighting Plan Today
Landscape lighting is not something you should trust to a DIY project. It needs to be designed and installed by professionals like at Lawn Connections. For quotes and other information about our 
outdoor lighting services
, 
contact us today
 at 972-680-8878.
---
Landscape Borders for DFW Residents
There are so many ways to make your landscape your own. Your home is a sacred place where you can feel relaxed and express yourself, and your yard is a great place to do this. One of the options we offer Dallas residents is a choice of landscape borders and lawn edging. They serve more than one purpose, providing practical organization and more ways to customize your landscaping job. We have many options for you at Lawn Connections.
Styles of Landscape Curbing
When the time comes to choose what kind of edging you want in your yard or garden, Lawn Connections has a lot to offer. There are many materials and designs that you can choose form to fit in with the style of the rest of the landscaping project. We offer something as minimal as basic rubber edging to protect your flowers all the way up to stamped faux brick and stone pavers that can be part of a larger design, making paths and patterns throughout your lawn. We would be happy to talk to you about our available options, as well as what bets fits your needs and budget.
What are Landscape Borders?
Landscape borders, edging, or curbing are all essentially the same thing. They are names used to describe different types of pavers or other objects used to separate certain parts of your garden from each other. There are many reasons why this is a good idea. The first is that it can add to the look and design of your yard or garden. With these landscape borders, you can make a section of your garden into a specific shape or highlight an area of your yard that you want to stand out. There are many designs available that can give you your dream landscape.
Another reason it is important to consider landscape curbing and garden retaining walls is for the health of your plants and flowers. Many kinds of grass grow well here in Texas and can become invasive, covering up or even choking out other beautiful plants in your garden. This simple step in the landscaping process can prevent this from happening by permanently separating the two.
It's also important to think about the soil that might be moving around in your yard. Do you want to see that on walkways, or on your porch or patio? Landscape edging can hold soil in even when stirred up, so that the areas of pavement and paths stay looking perfect, just the way you want it when you have guests over.
Landscape Curb Installation Experts
Placing landscape curbing means that you need someone precise with years of experience. One paver even a centimeter out of place could lead to shifting, which can ruin the entire look and feel of your dream landscape. With Lawn Connections, you do not have to worry—all of our contractors are trained to do the best job the first time around. You will be totally satisfied with the finished product. We pride ourselves on our quality work.
Other Landscaping Services
Our Landscape Services
Landscape Design
Landscape Lighting
Outdoor Living
Lawn Services
Commercial Lawncare
Outdoor Living
Landscape Installation
To learn more about all the landscaping services we offer, feel free to contact us today by calling 972-680-8878.
---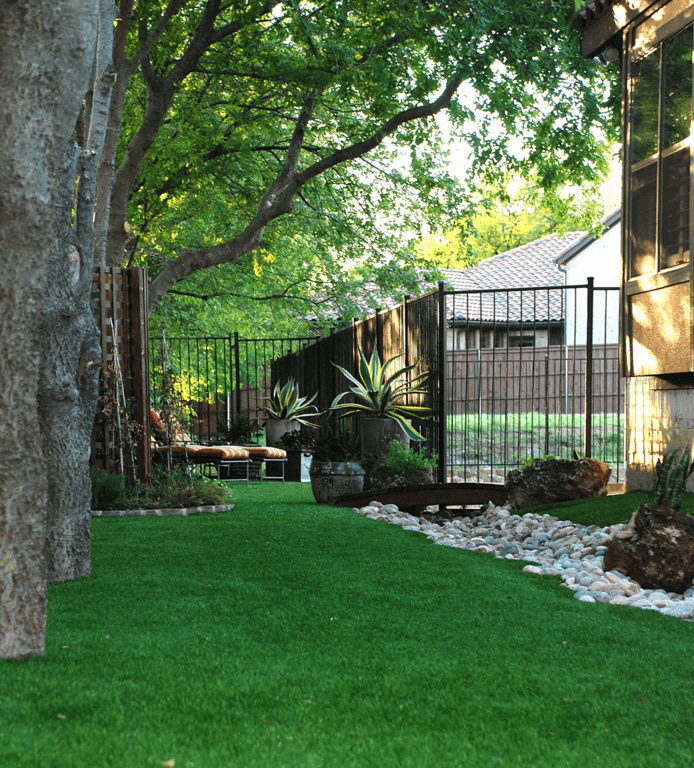 Landscapers in Dallas-Fort Worth
So, you have finally purchased a home. It could be your first home or your fifth, but you are ready to make it your own. One of the best ways to do so is to hire a landscaper to create the perfect lawn or backyard for you and your guests to enjoy. Nothing makes a home yours more than a relaxing and beautiful outdoor living space, created and designed by you with the help of expert landscapers. Whether it's a themed pool landscape, lawn mowing and shrub maintenance, or flowerbed design, Lawn Connections would love to help you make your home a paradise.
We bring our expertise to your vision, and then we work as a team to make it happen. We can discuss with you what plants work best in hot Texas summers or freezing Texas winters, as well as let you know how to care for them. We can help you set up the best system for watering your plants year-round, even during water restrictions. It's always best to consult with knowledgeable landscapers to get the job done right. It can save you time, money, and heartache of a DIY job gone wrong.
Our Landscape Services
Landscape Design
Landscape Lighting
Landscape Borders
Outdoor Living
Lawn Services
Commercial Lawncare
Outdoor Living
Landscape Installation
Choosing the Best Landscape Design Company for You
It can be hard to trust contractors with your home and precious belongings, but if you choose the right company, you will never have to worry. Lawn Connections knows that you need professionals to handle your landscape design. How can you know you are in good hands?
Years of experience
A proven track record of excellent service in the community
A portfolio of beautiful landscaping work
Expertise to help you choose the right plants and irrigation setup for your needs
Working with your budget and style
---
Landscape Maintenance and Lawn Services
So, you have a beautifully landscaped lawn, but that is only the beginning of having a beautiful outdoor living space. Caring for that lawn can get complicated, especially if you do not have a green thumb. That is why Lawn Connections offers customers in Dallas and Fort Worth many services that can help you maintain your yard. From shrub and flowerbed maintenance to lawn mowing and weed control, we have the tools and the packages you need to keep your home landscaping looking just as good as the day we installed it. You don't have to spend your weekends in the hot sun, trying to pull weeds and picking up pet waste. Our lawn technicians can do all this and more for you in a quick and efficient manner while you relax with your family.
Are you ready to start making your dream landscape a reality? Or do you need lawn maintenance services in the Dallas TX area? Look no further than the experienced team at Lawn Connections. Feel free to contact us using our convenient online form, or call us now to speak with one of our friendly customer service representatives. Our staff can answer any questions you may have about our services and prices.
Our helpful staff can schedule appointments when it is best for you. We work on your schedule and budget. Call 972-680-8878.