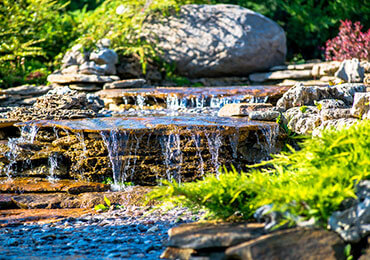 5 Water Features that Can Transform Your Texas Lawn
Estimated reading time: 2 minutes
Take your pick from any of these water features, and get ready to transform your Texas lawn!
Outdoor Shower
The ultimate water feature is one you can step right into! If you can't afford an outdoor spa, a backyard shower provides a liberating alternative to your daily shower routine and lets you extend the pleasure outdoors.
Add in a Pond
Who wants an indoor aquarium when there are backyard koi ponds waiting to be built?! If you would like one for yourself, there are many DIY kits available—or hire a landscape designer who specializes in these peaceful ponds. But beware: Koi are playful and mesmerizing, but they're not low maintenance. Make sure you understand their needs before taking on a koi pond.
Custom Creek
You can build your own DIY creek, like the one shown here, with some concrete, gravel, PVC pipe, and a recirculating pump. Strategically placed stones guide the water to a retaining pool, where it is pumped back up to the top of the creek. This would be a smart choice for a distinctive garden border.
Add a Birdbath
Hands down, the most common backyard water feature is the noble birdbath.
Build a Waterfall
If you're longing for the soothing appeal of falling water, consider making—or buying—a backyard waterfall.
Contact Lawn Connections
Do you have further questions about the water features that can transform your Texas lawn?
If so, it's time to get in touch with Lawn Connections. We're truly the experts at hand when it comes to lawn design and décor. If you're in need of high-quality lawn care services, call Lawn Connections at 817-769-6950! Or, get in touch with us via our online contact form. Our landscaping professionals are truly the best in the business. We're always happy to offer our assistance, and we look forward to sharing our expertise with you!