Transform Your Backyard with a Custom Water Feature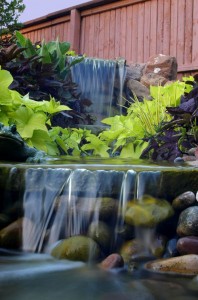 A custom water feature can really enhance the look and feel of your backyard. Whether you want a simple water feature or something more sophisticated and complex, look no further than Lawn Connections, which offers the highest quality services in landscape design in North Richland Hills. If you can dream it, we can figure out how to make it work. A water feature is a great way to add personality and a better mood or "vibe" to your backyard space, without a lot of construction or other heavy work that can leave you with a torn-up backyard.
With a water feature or other landscaping installation, you can transform your backyard into a place that you want to be, where you can hear the calming effects of the soothing water noises. If you already have an existing garden, a water feature is a great way to really enhance all your hard work. It turns a beautiful garden into something truly magical and special. If you do not have an existing garden, a landscaping installation or a water feature can be a great starting point to designing your perfect outdoor retreat.
We are here to help you with Custom Water Feature
There are so many varieties of water features and at Lawn Connections, we can create a custom water feature that meets your exact needs. If you can dream it, we can make it happen. We can help you turn the idea in your head into a wonderful addition to your backyard area, creating an elegant and soothing environment for you to relax with family, friends, or to enjoy a bit of time by yourself. A simple addition like a water feature can truly enhance your backyard and your experience in it. With a nice water feature, with its soothing visual and auditory appeal, you might find yourself spending more time in your backyard than you ever did before.
Contact Lawn Connections today at 817-231-0042 to find out how we can provide you with the best landscape design in North Richland Hills that meets your expectations and goes beyond.