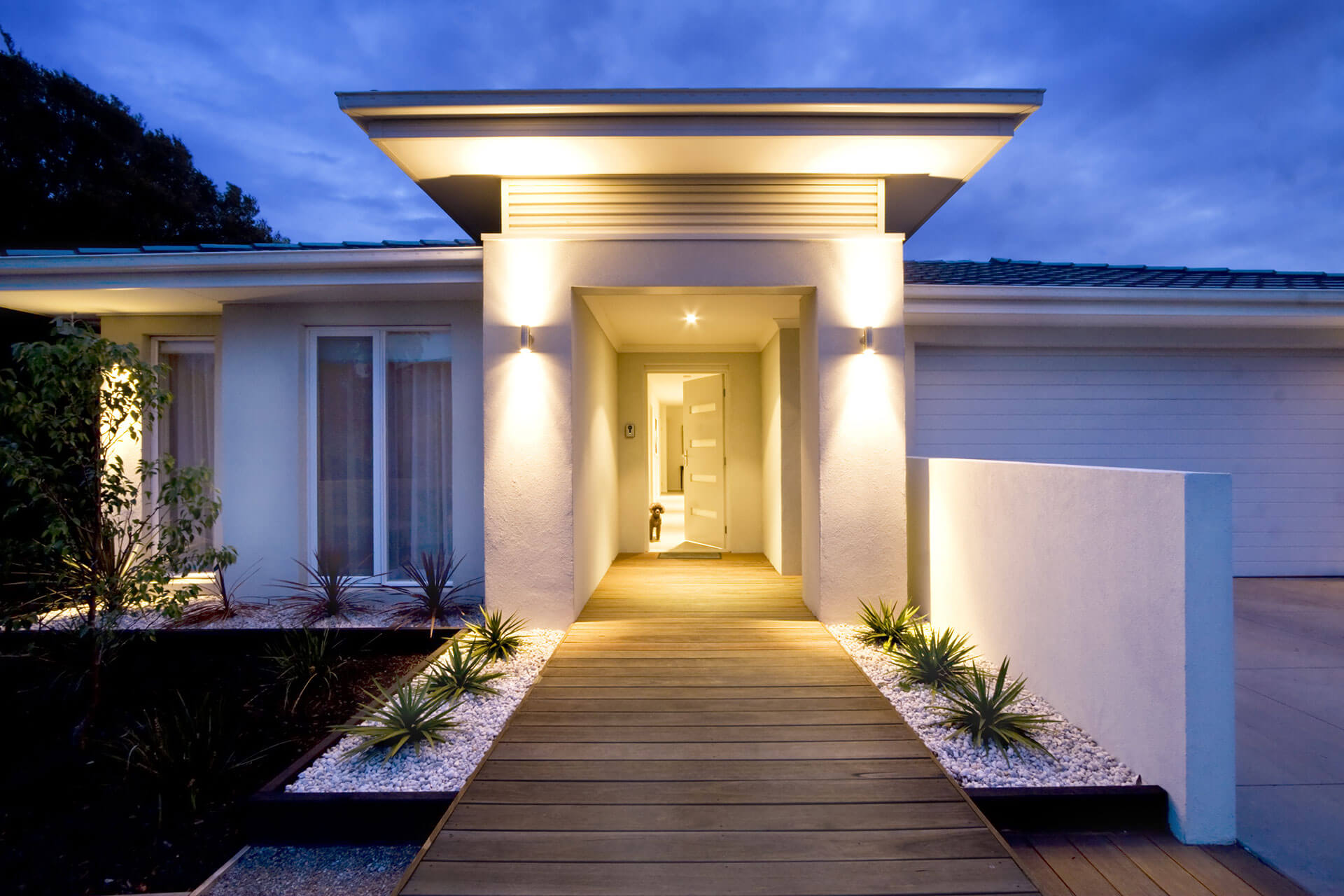 Best Outdoor Lighting Installation Services in DFW
Lawn Connections believes in delivering the whole package to you in one place. Why should you have to go to multiple companies for all of your landscaping needs? That can get exhausting and costly. Instead of all the trouble, you can come to a place like Lawn Connections where we can provide all the aspects of landscaping to your Dallas home, including landscape lighting installation and design.
Our outdoor lighting pros can tackle your landscape lighting project from start to finish, no matter your goal. We offer a variety of selections to fit your budget and style. We believe in taking things step-by-step, which is why we have built a foolproof process when it comes to landscape lighting for our clients.
Our process begins with design, because we know it is important to get everything just right for you and your precious home. We sit down with you to help you find the right products to highlight your yard or lawn's best features, or to protect your home and valuables with spotlights and other nighttime protective lighting. Once we've decided on the best option, we move on to the installation process.
Outdoor light installation can be tricky. It involves electrical wiring and handling delicate fixtures. You can trust our experienced hands, though, as we expertly install everything exactly the way we agreed in our design plan.
The approval phase is where you look over all our hard work and make sure everything is up to your standards. We would not be satisfied with a job if you weren't.
Lastly, all that's left is to enjoy the new look of your outdoor space!
Purpose of Landscape Lighting
There are two main reasons why our Dallas-Fort Worth clients choose to install landscape lighting in their lawns and yards. The first one is for aesthetic appeal and entertainment. Just because it's dark outside does not mean you can't still have a good time!
Dallas residents love to entertain, and we wouldn't want to stifle that. It's why landscape lighting is such a big business, providing just the right amount of light for romantic dips in the pool or a late-night barbecue with friends and family. Landscape lighting can provide a warm glow, so that guests can see each other without disturbing the neighbors with bright lights. It just takes great planning and design, which we have going for us at Lawn Connections. The appeal of lights can also help you highlight certain parts of your landscaping,  such as fountains and statues.
Landscape lighting also comes in handy when we're talking about the safety of your loved ones. Lighting can easily deter those who want to come onto your property when they shouldn't, sending them packing instead of into your house. Whether it's flood lights that they cannot hide from, or censor lights that respond to sound and movement to alert of an intruder, we have what you need. Your family's safety is our top priority, and we know how to strategically place these lights for maximum comfort. You can sleep soundly at night.
Landscape Lighting Options
When you first realize how many options are available for landscape lighting, you may feel overwhelmed. We see this a lot when our customers learn that we have dozens of options from top manufacturers. However, our experts can help you sort through the choices and let you know what will provide the best solutions for your needs. Options like flood lights and spot lights are great for protecting your home, whereas as path lights are better suited for entertaining guests and providing safety at night. We can go over the benefits of each option with you, as well as the pricing, so you can make an informed decision you won't regret.
Next Generation Lighting Technology

With Luxor®, lights don't simply turn on and off. They come alive. Luxor offers zoning, dimming, and color adjustment capabilities that provide virtually limitless design possibilities and on-the-fly control from your iOS and Android devices.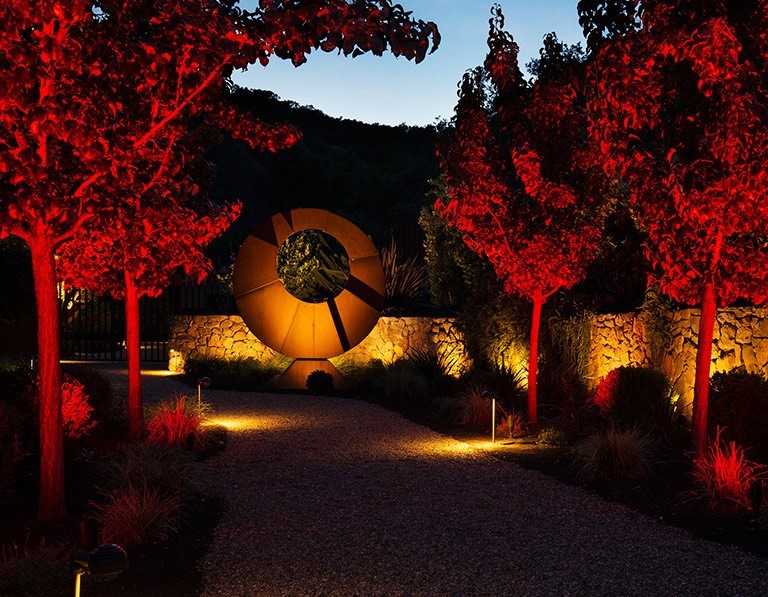 Advantages of LED Lighting

Energy Efficiency
Halogen based lights can take anywhere between 10 and 50 watts of power each, and sometimes more. LED fixtures require roughly 80% less voltage, which means lower energy costs, longer lamp life, and better environmental citizenship for the end user.
Heat Reduction
As their watt consumption is significantly higher, traditional fixtures become very hot, so much so they cannot be touched after running for only a few minutes. LEDs create heat as well, but far less than traditional lighting. This results in a longer lamp and fixture life. To ensure our products live as long as possible, FX LED feature heat sinks, as well as temperature sensors. If a fixture is getting too hot, the FX board will automatically pull back current which will actively cool the fixture down.
Consistent Light Output
Traditional lighting required multiple wires to each set of lights to ensure all lights are outputting the same level of illumination. It is a complex and time-consuming process. With FX LED fixtures, a built-in device called a driver takes all the power it is receiving and delivers it to each LED within a fixture so they are always at the same light level, regardless of the voltage supplied.
Fixture Life Length
Depending on the application LEDs can last 50,000 hours or more. At the end of their life they don't just burn out like a traditional lights. LEDs slowly dim over time and at very low levels, so even after 50,000 hours of use in most situations LEDs will continue to illuminate sufficiently.
A Professional's Game
Always remember that Landscape Lighting is an art, and just like an irrigation system, it requires a professional to plan, install, and maintain. In order to achieve safe, optimal, and long life from a lighting plan, a qualified installer should always be consulted to create the functions that an end user is looking to get from a lighting plan.
Other Landscaping Services
Call us for a Landscape Lighting Plan Today
Landscape lighting is not something you should trust to a DIY project. It needs to be designed and installed by professionals like at Lawn Connections. For quotes and other information about our outdoor lighting services, contact us today at 972-418-LAWN.