Landscape Lighting Options for Summer Activities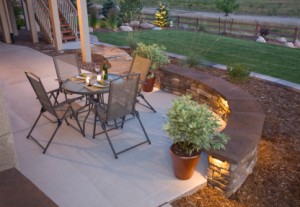 Pleasantly warm evenings throughout June, July, and August in Keller are ideal for summer outdoor fun with family and friends. Whether you are just lounging outside with a chilled drink and your significant other or entertaining at an outdoor dinner party, landscape lighting is both a necessity and your yard's most striking accessory.
Could your landscape design use some illumination? Turn to the professionals at Lawn Connections for guidance in landscape design and landscape lighting installation.
Landscape Lighting Highlights Your Hard Work
Show off your beautiful cactus, lacey oak, and Henry Duelberg (Salvia farinacea) plants during the day then watch your yard transform into a summer oasis at sunset. Shed some light on your beautifully paved pathways, highlight your pool or hot tub, and put the spotlight on your patio with one of the many landscape options available.
Types of Landscape Lighting
Pathway lights – from basic but chic mushroom-style lights to more decorative options, you can choose from a wide range of styles and materials that will make you pathways pop.
Lanterns – these wall-mounted options, perfect for patios and porches, give you the chance to show off your personality and add a little curb appeal to your home.
Accent lights – highlight the trees, garden, or sculptures in your yard with perfectly-positioned spotlights.
Step lighting – light the way for you and your guests as you mingle outdoors after a BBQ.
Pool lighting – end a day full of summer outdoor fun with a night swim in your lit pool or relax tired muscles in a bright hot tub.
Lawn Connections, Your Keller Landscaper
With custom landscape lighting, your yard will become this summer's hotspot for your friends and family.
Lawn Connections in Keller is your source for all things related to landscape design. We provide landscape lighting installation, outdoor kitchen design, and professional lawn services to Keller, Haslet, Southlake, and the surrounding areas. Call our Keller landscapers today at 817-231-0042.