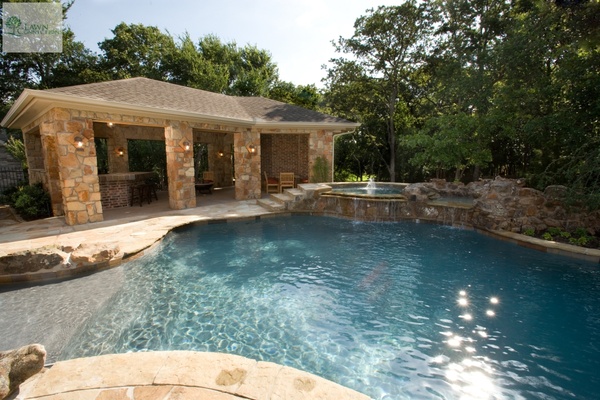 It's summer here in Texas. The kids are out of school, people are taking vacations, and the outdoors are just ready to be experienced. How about saving some money and staying at home for the summer? Here are some ways to amp up your backyard for some summer fun!
1. Pool
– This is obviously the number one place to spend time in the summer. The kids will love splashing in the water and the parents can enjoy a relaxing evening floating under the stars. A pool can boost your property value and in the long term can provide some cheap summer entertainment!
2. Patio
– How old is your home? Ten years? Twenty? It may be time for a new patio! Replace old metal coverings with wooden ones for a more contemporary look and add a built-in grill! Patios are great for outdoor parties and dinners and can help keep you cooler in the summer heat. Bring patio dining to your own home, instead of going to a restaurant.
3. Fire Pit
– Bring the campfire to your backyard! Fire pits are great all year round for smores, hot dogs, or just sitting around enjoying a summer night. They can be designed to fit any aesthetic and are great for parties. They are even good for keeping away those pesky Texas mosquitoes. So, get out of the tents and have a camp-out at home!
4. Open Lawn
– What could be better than playing a game of soccer or football in your own backyard? Well, if you have dead grass or concrete slabs behind your house, it could leave you stuck inside. Clear out the yard and replace it with healthy, soft grass. This will not only give you a space to play but will also make your backyard look more beautiful!
These are just a few of the ways you can enjoy your backyard this summer. If you're looking to improve your backyard, Lawn Connections can help you design and create your dream yard. Give us a call and we can start working to help you enjoy your backyard a little more this summer!