Brighten Your Backyard with Landscape Lighting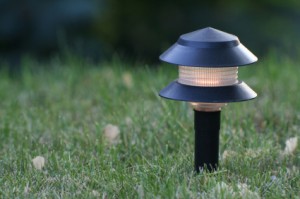 Your yard is an extension of your home. If you have put time and money into your lawn and surrounding foliage, you should be able to enjoy it. Landscape lighting not only creates a pleasant ambiance but also allows you to use your backyard day or night. At Lawn Connections, we know how to help you get the most out of your yard.
Why Add Lighting?
There are a number of advantages to integrating a lighting scheme into your existing Fort Worth landscaping. Perhaps the main reason many people choose landscape lighting is for the aesthetic value it adds to your existing design. The right scheme can highlight certain aspects of your yard, like a water feature or flowerbed.
In addition to putting a spotlight on natural beauty, there are a few other things that exterior lighting can do:
Provides safety, illuminating steps and other potentially hazardous obstacles
Deters theft or criminal activity through eliminating dark spots in your yard and along your home
Lights a pathway so you can safely navigate your yard
To boot, if you are trying to sell your home, exterior illumination can create curb appeal and help paint your backyard as another living space that can be utilized
Professional Installation
If you are considering adding landscape lighting to your yard, you may find it helpful to work with professional landscape designers. They can help identify areas that will benefit from light for both visibility and aesthetic reasons.
Our specialists at Lawn Connections can offer several styles as well as timely installation. Contact us at (817) 231-0042 to make an appointment today.