How to Design Impressive Landscape Lighting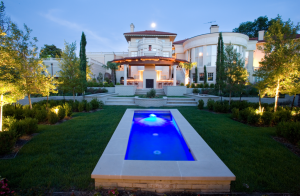 If you have ever seen someone who had a yard that looks like it is from the pages of a magazine, you might be surprised at how simple features and additions can make those big impressions. For many people, enjoying their yard ends when daylight fades, but if you install landscape lighting you can continue to enjoy the outdoors even after the sunsets. Most people do not know where to begin when it comes to lighting schemes. This is where contacting us at Lawn Connections can help you create the mood you are looking for.
Choosing a Theme
Any kind of lighting scheme should be approached as an art form. The way different colors react with your foliage, the placement of lights and lanterns, and the style of lights you choose all play a part in creating an overall theme. Some popular designs are built around overreaching concepts such as:
Fairy light gardens
A cool forest retreat
Vibrant party colors
Elegant lantern lit pathways
Or whatever you have imagined
If you are at a loss of where to even begin your lighting design, contact a Fort Worth landscaper to get your project started.
Combining Your Theme With a Mood
After you have chosen the concept you would like to build your lighting scheme around, you can experiment with the mood created by light. If you would like to host peaceful evening get-togethers, try softer lights in cool or natural colors. If you need to be able to see around the edges of your pool for safety, think about a more colorful lighting scheme. Whatever feeling you want to create with your outdoor lighting, we can help make it happen. Give us at Lawn Connections a call at 817-231-0042. We can make your dream become a reality.