A New Partner in Landscape Lighting Technology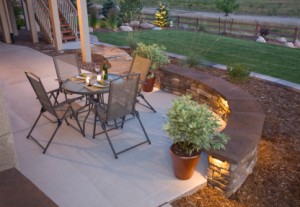 When you are getting ready to make your home and yard really stand out from the crowd, you will love what Lawn Connections has in store for you. As a premier lawn and landscape service, we can make your lawn clean, green, and weed-free. We also design and install beautiful landscape lighting, all while you sit back, relax and enjoy.
Lift the Post-Holiday Slump with an Expertly Lighted Yard
When the holidays are over, many people get January blues because ordinary Fort Worth landscaping tends to look dull after all the glitz and glitter of the season. It doesn't have to be that way. Who says landscaping needs to be boring just because you aren't adorning your trees with red, gold, and green? You can effectively extend your daylight hours by adding landscaping lights around your home and yard.
Landscape lighting systems are changing, thanks to LED technology development, which converts the majority of electric voltage into light, wasting very little of the energy for heat. In recent years, due to further development of light-emitting diode hues, LED lights are joining with halogen lights to help make your lawn and yard a beautiful wonderland, no matter what time of year.
We Can Help Your Yard Reach Its Full Potential
With the help of the experts at Lawn Connections, you will be able to design and install lighting that will help you use your backyard to its full potential. With better landscape lighting, you will get more entertainment hours to use your backyard, deck, patio, and pool. Contact us at 817-231-0042 to speak with one of our friendly staff members who will help you get started on designing your dream yard today.
Source: Plain Dealer "Lighting the landscape with LEDs," Tony Bertauski, December 29, 2013