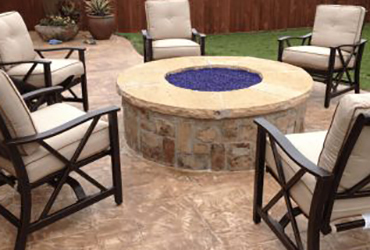 Which Type of Outdoor Fireplace Is Right for My Home?
There are multiple types of outdoor fireplaces, so how should you go about choosing the best fireplace for your home? Here, check out Lawn Connection's guide to selecting the best type of outdoor fireplace to meet your home's needs:
Space
How much space does your fire pit need, in order to meet safety standards? This is an important question to consider. You should make sure that your fireplace or fire is kept at a safe distance from trees so that branches or leaves don't catch on fire. Also, you should never build a fire under a roof or in an enclosed space. Space is a very important factor!
Materials
There are many different types of materials that you can opt for when it comes to outdoor fireplaces! Ceramic fireplaces are fairly low-maintenance while remaining heat resistant and durable. Copper fireplaces are one of the most popular options since they are resistant to corrosion and durable. Stainless steel fireplaces are weather-resistant, easy to clean, and also very durable. Of course, there are pros and cons to all these types of materials; thus, you should think about what's important to you and your home before making a decision. Cost may be a factor, or you may have certain aesthetic preferences.
Contact the Experts at Lawn Connections
Do you have further questions about the types of outdoor fireplaces? If so, it's time to get in touch with Lawn Connections. When it comes to lawn design and décor, we're truly the experts at hand. If you're in need of high-quality lawn care services, call Lawn Connections at 817-769-6950! Or, get in touch with us via our online contact form. Our landscaping professionals are truly the best in the business. We're always happy to offer our assistance, and we look forward to sharing our expertise with you!