Use Lawn Connections Patio Construction to Beautify Your Home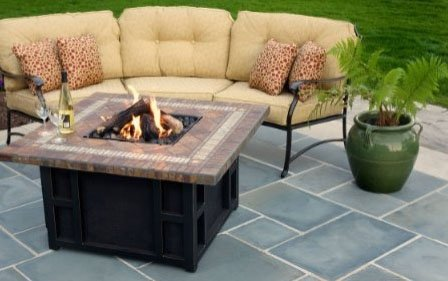 Proper patio construction can involve a lot of work and planning. Patios must withstand the elements and match the existing design of the yard. Many homeowners have a particular motif in mind when they set out to install a patio. They often start by locating an experienced landscaper. If you are interested in a beautiful, long-lasting patio design, here at Lawn Connections we are able to help.
Types of Patios
Many homeowners know exactly what they want when they speak to a patio contractor. Others do not know exactly what type of patio construction they're looking for, but will "know it when they see it." We are happy to work with you and help you complete your designs for a stunning patio. There is a range of materials that we can use. For instance, we can make a concrete patio in plain off-white, or with many variations in either color or finish. We can also construct your patio with a dry stack or a custom dry stack. In addition, we are able to construct patios using veneers available in various sizes, colors, and shapes. For the ultimate in beauty and durability, we can construct a stone patio for your yard.
Trust Builders with Experience
Our confidence in our ability to provide you with top-quality patio construction is not a boast.  We have been constructing superior patios and other landscaping jobs since 1999.  At Lawn Connections, we have distinguished ourselves as a Keller landscaper providing highly creative stone and concrete landscapes.  Please contact us at 817-231-0042 and let us help you with your next patio project.