Three Tips for Your Outdoor Kitchen Installation Project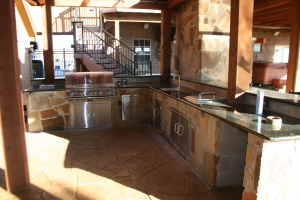 There are numerous decisions to make before building an outdoor kitchen. The scope of the project—from designing the layout to selecting appliances—can make your dream outdoor kitchen seem a little overwhelming. Fortunately, our landscaping experts at Lawn Connections can help make your dream outdoor kitchen a reality. Here are three tips before starting your outdoor kitchen installation project:
1. Start with a Vision
Before starting any type of construction project, it is best to have a vision in mind. Share your ideas as well as likes and dislikes with our team of professionals. Even if you don't have a specific layout in mind, you can share how you plan on using your outdoor kitchen and our Southlake outdoor construction experts will create a design that will meet your needs.
2. Start with the Basic Elements
Many individuals think an outdoor kitchen installation job comes with a hefty price tag. Fortunately, you can begin with the basic elements of an outdoor kitchen and then expand as your budget allows. Consider the following two essentials of an outdoor kitchen:
Countertops – this feature offers a food prep area as well as a place to put together your hamburgers and other food items.
Lighting – any successful barbeque needs to have adequate lighting to allow the event to continue after nightfall. It is frustrating trying to determine if the meat is done in the dark.
3. Add Additional Features
Once you have installed the basic features above, you may want to add more elements to your outdoor kitchen installation plans. Additional items that make an outdoor kitchen truly superior are sinks, appliances, a shelter, and a hearth
Call the landscaping experts at Lawn Connections today at 817-231-0042. We can help make your outdoor dream kitchen a reality.