Three Strategies for a Perfect Landscape Design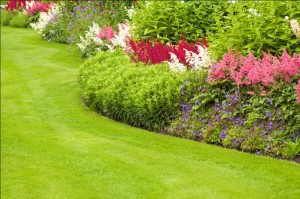 Whether you view landscape design as a detailed drawing that specifies the location of each tree and shrub, or a project that evolves each spring after a trip to the local nursery, it's a process that you are constantly engaged in. Lawn Connections is here to help you turn your yard into a space that is inviting, natural, and visually appealing. Here are three strategies to help you achieve a smart design:
Focal Points
Focal points are just as important in outdoor design as they are in indoor design. Typically, a large tree or statue is used as a focal point in landscape design, but there are many other options. Consider using a garden bench, a view, or a design component of your home.
Add Curves
It's important to incorporate curves into your landscaping as they add dimension and interest to space, but be sure not to overdo it. Limit the curves to a dominant one, and accentuate that line when you plant flowers and shrubbery, repeating the same line shape.
Use Variety
One of the easiest ways to make your Keller landscaping more visually appealing is to add variety. Try to incorporate tall swaying plants with colorful flowers that attract butterflies and hummingbirds. Consider trees that blossom and landscape rock that creates movement in the space.
Keep in mind that you don't need a huge budget to realize a beautiful landscape design. The professionals at Lawn Connections are here to help you achieve a stunning and thoughtful yard for a competitive price. Contact us at 817-231-0042 for instant pricing.