The Different Types of Outdoor Fire Pits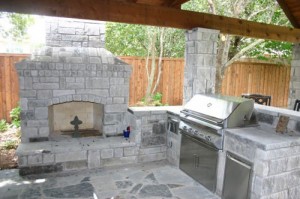 Here at Lawn Connections, we install different kinds of outdoor fire features including fire pits to suit the needs of the homeowner. Fireplaces and fire pits are a spot to congregate and enjoy the relaxing ambiance of a glowing fire right in your backyard. Fireplaces and fire pits also extend the season for enjoying your outdoor living space. We bring the campfire experience to backyards everywhere. Here are some examples of the various fire pit installation types we provide.
Gas or Wood
Your outdoor fireplace or fire pit can burn natural wood. However, wood ashes need to be cleaned up and there is always the possibility of hot embers remaining. A gas fireplace or fire pit has an instant on and off capability with no need to replenish wood fuel, and there is never a need to remove ashes. Gas-fired features mimic a realistic look to outdoor fireplaces and fire pits with no cleanup necessary.
Fireplace, Fire Pit, Chiminea, or Firebowl
The design options are practically endless for getting a custom outdoor fireplace or fire pit. You may desire a smaller clay chimenea or fire bowl for smaller areas. We will design, build, and install any size or type of outdoor fireplace or other custom fire feature, from large stone fireplaces to small fire bowls with lava rock or various colors of crushed glass.
Fixed or Movable Fire Features
A large stone fireplace is a permanent structure that can fill an entire wall. In comparison, a small clay chimenea can be moved about or stored as needed. A permanent fire pit works well with a deck or patio built around it. If you like to entertain year-round or have a larger outdoor space, you may benefit from a bigger fireplace or fire pit design.
Even if you are not sure what it is that you want, our team of designers at Lawn Connections can help you design the perfect outdoor fire feature. We are the premier Fort Worth landscaping company capable of making your outdoor living space a reality. Our hardscape design experts can build what you want. Give us a call at 817-231-0042 for more information.