Tailor Your Lawn with a Stone Landscape Borders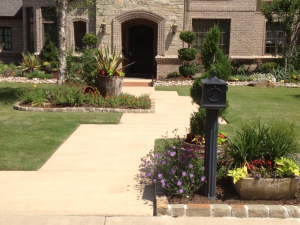 Landscaping is an important part of your home's exterior. A well-manicured lawn adds curb appeal and increases your property value. Landscaping with walkways, borders, flower beds, or fountains gives your home a unique look that stands out from other homes on the street. Lawn Connections, providing expert landscape design services, can customize your lawn with stone landscape borders and hardscape features that will add years of beauty to your home.
Borders add functional spaces to garden areas, pools, patios, cabanas, gazebos, and outdoor spaces. Landscape edging in custom stone designs can create areas of interest within the yard.
Garden Area Borders
keep garden areas contained for easier upkeep
flowering plants can be grouped by seasonal blooms or colors
mulch and fertilizers for garden plants are retained within the garden bed
garden irrigation features can be contained and hidden
Pool Area Borders
add slip-resistant paths and walkways around the pool
provides added seating areas
Patio Borders
create a perimeter around the patio with plants and edging
add perimeter lighting to the border area for enhanced effects
Walkways and Pathways
pathways from the house to the garden, to the pool, or to the garage create a footpath that directs traffic and saves your grass
Our team of experienced Keller landscaping designers will work with you to develop the perfect landscape design for your property. We can create stone landscape borders that complement your home's exterior, add beauty and value to your property, and fit your lifestyle and budget.
We use materials that are readily available, easy to maintain, and durable to last a lifetime. There are hundreds of custom stone designs to choose from, and you can choose your favorite materials by the color, shape, and size that will compliment your home. If you have existing stone or rock, we can match it with our materials.
Our team of experienced, highly skilled stonemasons at Lawn Connections can create and build any stonework that you can imagine. We specialize in stonework walkways, borders, patios, walls, fire pits, pool areas, steps, and outdoor hardscaping. If you can imagine it, we can build it.
For more information on our services, please give us a call at 817-231-0042.