Proper Patio Construction is Best Left to Professionals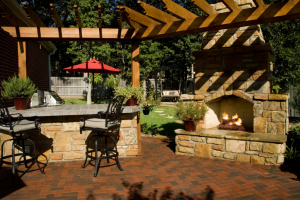 While there are many individuals who thrive on do-it-yourself projects and love the challenge of creating something with their own hands, there are times when there are certain projects that are best left to professionals. This scenario is especially true when it comes to patio construction. If you want to have a patio to enjoy for years to come, it is best to leave the design and building to a professional who has a good amount of experience in the field. At Lawn Connections, we have been delighting our customers for almost 15 years and have the experience to ensure your satisfaction. Here is the top reason why it is best to hire someone to design and install your patio.
Ensure Proper Materials and Installation the First Time
Did you know that there are some building materials that are better to use in patio construction than others?  Our experienced stonework specialists can help pick out the right materials for your next patio, walkway, retaining wall, or hardscape. There are literally hundreds of materials to choose from and it is helpful to have an expert opinion when it comes time to choose the right material for your landscape.
In addition to choosing the right material that will complement your landscape design, we are also conscious of the environment and seek to select materials that are eco-friendly. Our Keller outdoor landscaping team can design and install the perfect patio for your home or office.
For more information about patio construction and how our team of experts at Lawn Connections can assist you, call us today at 817-231-0042.