Outdoor Water Features Can Be Used As Tributes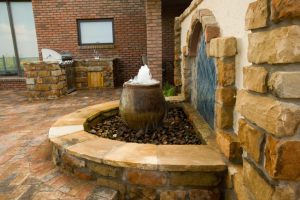 A woman in Newport recently unveiled an outdoor water feature dedicated to the memory of her son who passed away from stomach cancer. Jackie Lewis's son Steve had a great love for water and enjoyed teaching children how to swim. Lawn Connections specializes in outdoor water features and can help you select the perfect feature to add ambiance to your property.
A Place of Peace
Jackie hopes that the water feature at the St. David's Hospice Care day hospice will be appreciated by everyone who visits the garden and that it will add to the peaceful atmosphere. Steve's water feature has a blue light at the very top, which is also the color of the stomach cancer charity. Steve's mother didn't choose the color but was well pleased with the coincidence.
The reason that Jackie decided to place Steve's water feature at St. David's is that they were instrumental in helping him during the last days of his life, in addition to helping her cope with his passing. Not only is the water feature a tribute to Steve, but it's also a tribute to his mother's effort to raise funds for charity.
A Lasting Tribute
Outdoor water features are sure to be memorable and are a great way to make a tribute to a person's memory. If you are in need of expert and experienced advice for planning your landscape, allow Lawn Connections to help. If you're in need of a Southlake landscaper or ideas for outdoor water features, give us a call today at 817-231-0042