Outdoor Living and Different Ways to Shade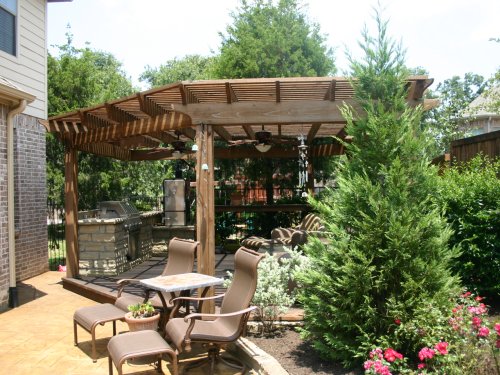 Summer weather will be upon us faster than you know it, and forecasters for the Dallas/Fort Worth area say it's going to be a hot one. If you want to guarantee yourself some shade in your backyard, now is the time to get things started! If you're not sure what kind of shaded area is best for your yard, consider these three specialties— or contact us for a consultation!
Gazebo
A gazebo is the most classic shaded building for a yard. When we say classic, we mean it: gazebos appear in millennia-old literature from all over the world. A gazebo can be as simple as a roofed area or it can be a complex and ornate structure with a raised floor, shades, and furniture for sprawling out on. We can build a gazebo to match your desired appearance and budget!
Deck
Like a gazebo, we can build decks that range considerably in complexity and design. A deck is a little more complex as it is typically built onto your home, but that also makes it accessible and fun! A deck is a very flexible location where you can host a barbecue or other event, or just lay out in the sun and take a nap.
Outdoor Kitchen
If you perked up when we mentioned barbecues in the last paragraph, this is an option you should seriously consider. Lawn Connections takes great pride in its outdoor kitchen and living spaces, and we can build you an outdoor cooking area that you'll be proud of too! It doesn't stop at the BBQ, either: we can set you up with a fireplace, bar seating area, and more.
Decks and shading can be both practical and aesthetically pleasing additions to your yard when designed and built by professionals. Contact Lawn Connections today to see what we can do for you!