Lawn Maintenance Services from Lawn Connections in Fort Worth TX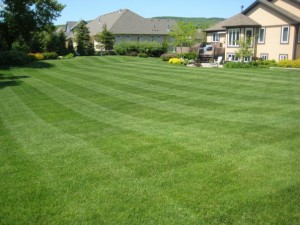 As summer approaches, more and more attention will be paid to your lawn, so it is essential that it look its best. After all, nothing says summer like a beautiful, perfectly manicured lawn. A healthy, vibrant lawn starts with routine mowing services, as well as other lawn maintenance our Fort Worth TX lawn care experts at Lawn Connections can provide your home with today.
Lawn Mowing Services
A beautiful lawn begins with regular lawn mowing services. And what better way to get your lawn ready for the summer season than by beginning a weekly lawn mowing service? No matter what size yard you may have, our reliable lawn mowing crew can effectively maintain its luster. Our lawn care experts know that when it comes to a perfect lawn, the key is mowing at the right time, utilizing the right methods with the right equipment. Our lawn care company also provides lawn trimming, which is crucial in removing grass in areas in which our lawn mowers cannot reach. We truly leave no stone unturned, or blade unclipped, in our quest to provide your home with a stunning yard. Edging is also important when it comes to lawn care, as edging around your sidewalks, driveways, and street curbs can add the final finishing touches to your lawn.
In addition to our weekly mowing services, our lawn care company also offers flowerbed care and shrub maintenance, as we know a beautiful lawn includes much more than just your grass. It is also important to ensure your grass is as healthy as possible as well, something our lawn fertilization services can take care of. With weed control and pest removal services available as well, there is nothing standing in the way between you and your beautiful lawn.
For additional information regarding our lawn maintenance services in Fort Worth and the surrounding area, give Lawn Connections a call at 817-231-0042 or contact us online today.