Landscape Lighting from Lawn Connections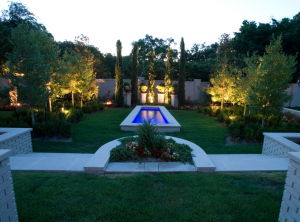 Just because the sun goes down in the evening doesn't mean that your fun outdoor activities have to end. Adding landscape lighting fixtures around your yard can effectively extend the daylight hours and add ambiance to your outdoor space. What's more, professional landscape lighting can also add extra security to your home, which helps to keep your family safe and secure at all times. At Lawn Connections, a landscaping design company in Southlake, TX, we offer professional outdoor lighting installation services that can enhance your home's current aesthetic.
Because a lot of work is put into your yard, it's often one of the places in your home of which you're most proud. But once the sun goes down, the beauty and hard work disappear with the light. Adding lights to flowerbeds, walkways, or simply around the frame of your house can highlight your hard work, even during the night. Our professional lighting installation technicians can even help you plan the best way to light up your space, with several colors, styles, and project sizes available.
More importantly, a professional landscaping design company can help make your outdoor space more secure during dark hours. Especially in areas like grass and along stone pathways, rocks, twigs, and other debris can often cause people to stumble or fall while walking through space. Adding lighting helps prevent late-night injuries due to unseen materials blocking the path. Outdoor lighting can also illuminate uneven areas, cracks, or steps that would be missed in the dark.
At Lawn Connections, we understand how important your outdoor space is to your family. Our outdoor lighting technicians are fully trained in the installation process, which is safe, easy to install, and can be very affordable for any budget. For more information on how to highlight your yard or to enhance the outdoor security of your Southlake, TX, home, call the Lawn Connection offices today at 817-231-0042.