Landscape Design Consultation from Lawn Connections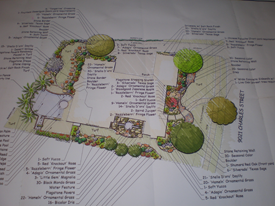 A lush home landscape invites family and friends outside to enjoy outdoor living spaces, but creating the ideal outdoor environment on your own can be challenging. Effective landscaping requires extensive knowledge of plant cultivation, systems, technologies, and products as well as a thorough understanding of design theory. Lawn Connections is not only your best source for lawn and garden maintenance services but is also your resource for landscape design service in Keller and the surrounding areas.
Whether you'd like to improve the look of your home's landscaping or wish to highlight existing features in your yard or garden, gaining assistance from a professional landscape designer can help ensure a stellar result. A professional designer can offer effective suggestions on how to add safety and security measures to the exterior of your home too.
Whatever your design or functional needs, the process begins with a landscape design consultation with a landscaping designer from Lawn Connections. We'll conduct a thorough inspection of your landscape, listen to your goals and ideas and work with you to create a plan that will achieve the result that you want within your household's budget. We'll create a full-color scaled drawing of the plan and go over the rendering in detail to ensure that each element of the design meets your expectations.
With our broad range of experience in landscape design, we can offer solutions that will enhance your life outdoors. We'll show you how to make the most of outdoor lighting with fixtures that will allow you to extend the use of your deck, patio, or pool into the evening. From adding lighting that will showcase a water feature to installing motion-sensor lighting fixtures for enhanced security, Lawn Connections has the necessary experience and know-how to light up your home with style.
If you and your family are seeking relief from the hot Texas sun, we can help you there as well. From patio covers to pergolas, we offer a wide array of shade solutions that will filter the sunlight without impeding cooling breezes. Our skilled designers and craftsmen will ensure that the shade structure adds a decorative element to your home and landscape as well.
Lawn Connections is a full-service landscaping company that can help you create an idyllic outdoor living area that you and your family will enjoy for many years to come. Call us today at 817-231-0042 to arrange a personal consultation with a skilled landscaping designer.