How to Take Care of Your Lawn in Winter?
Estimated reading time: 4 minutes
Fall has arrived and it's time to start thinking about your lawn and how to properly take care of your lawn this winter. It's a good idea to rake up all that dead grass from your lawn and get rid of any leaves that have fallen from the trees.
However, you should not put away your lawn mower just yet, during these fall months you should be doing all the things you need to maintain your yard before winter descends upon us.
Get Ahead on Winter Maintenance
Lawn Care in the winter may seem like a daunting task, but there are a few simple things you can do now to ensure your lawn stays healthy and happy throughout the season.
Overseed your lawn. You read that right – overseeding your lawn is a great way to ensure that your grass stays green, all year long. About 8 weeks before the first freeze of the season, start the overseeding process.
Clear away debris (mostly leaves) from your lawn. This will help get rid of bacteria-causing layers of dead grass and debris.
Mulch around your shrubs and other plants. When you take the time to properly mulch your plants, this can help protect them from freezing temps. Mulching is also a great way to trap in moisture, which helps your plants get easy access to water — making them last much longer! Mulching is a fabulous way to keep your lawn looking healthy and green, even during winter.
Take care of your perennial plants…up until the first snow comes, that is. Once it's time to remove these plants from your landscape, in time for winter, just ensure that you use VERY sharp pruners to get the job done.
Spike and fill holes on your grass. By spiking holes into your grass, you can help aerate your yard, and improve drainage. This will help maintain a healthy-looking lawn, year-round!
Mow! It's important to keep up a regular mowing schedule, until the ground freezes. Why will this help? Because mowing helps clear debris from your lawn, and the short height of your grasses will ensure that fungal damage doesn't become a problem when it snows.
Call a professional. Need help ensuring that your yard is winter-ready? It's always best to contact a lawn care expert in your area!
When Should You Stop Mowing?
When you're trying to decide whether to continue or stop mowing for the year, there are a few factors to consider:
The amount of rain and sunlight
Ground frost
Water logging
Daily temperatures
Inclement weather
How to Decide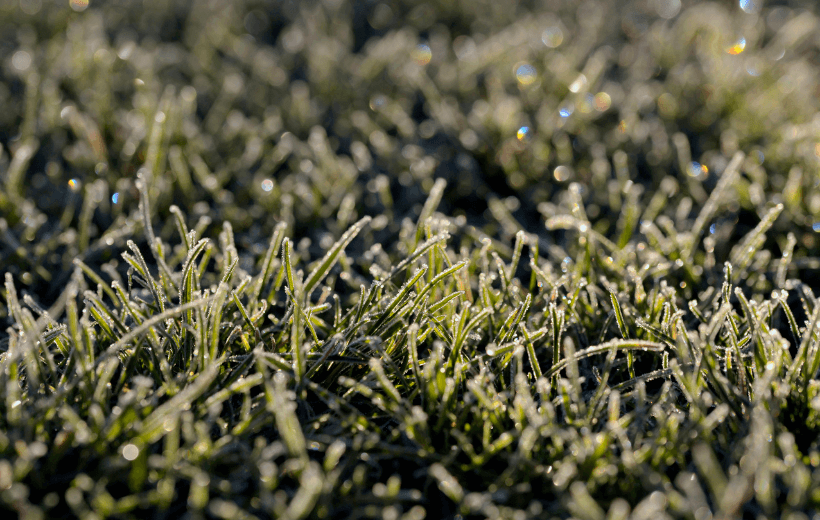 Each year will probably be different for you. Northern Texas often sees more mild winters, so you might mow your lawn even as it gets closer to Christmas. You'll likely notice that your grass will stop growing as the temperature in the air and soil drops.
​​Grass will continue to grow if the temperature outside is above 40 degrees, and that will also contribute to other factors that let it continue to grow. Consistent rain will help it grow, but of course, too much rain will prevent you from mowing at all. Even though the days may be shorter, grass will still grow if it has direct access to sunlight. Once it begins to be below the 40 degrees mark, your grass won't grow as quickly. If you know the temperature won't be getting above 40 degrees for a while, then you can reasonably put your mower in the shed.
Contact Lawn Connections
Do you have further questions about how to take care of your lawn in winter? If you're in need of high-quality lawn care services, call Lawn Connections at 817-769-6950! Or, get in touch with us via our online contact form. Our landscaping professionals are truly the best in the business. We're always happy to offer our assistance, and we look forward to sharing our expertise with you!