How to Properly Care for Your Flowerbeds
Lawn maintenance in North Texas is easier when the landscape is designed specifically for your personal tastes and time schedule. Lawn Connections can show you that Southlake lawn care isn't only about the grass. Trees, shrubs, and flowerbeds are all components of a beautiful lawn too.
North Texas is hot and dry, and that can cause problems in flowerbeds unless particular flowers are chosen that are drought-resistant and heat-tolerant. Nonetheless, beautiful flower gardens can be achieved with proper planning and flowerbed maintenance, which starts with placing your flowers in the right place.
Full Sun Flowerbeds
A flowerbed located in the full sun can reward a North Texas gardener with a lush offering of vibrant blooms. Phlox, marigolds, lantana, and zinnias are good flowers to plant in a sunny area.
Marigolds need a bit of attention after they flower. Snip off the heads to allow new blossoms and keep the garden looking fresh. The seeds from the deadheads can then be dropped to the ground, where they will grow and provide free flowers for the following year.
Lantana will take up space in the flowerbed quickly, so don't plant too many. In the fall, just cut them back. As long as you leave the root in place, it will come back next year.
Phlox thrive not only in the sun, but in hanging baskets and planters as well. There are many different varieties, and all come in a host of color.
Partial Sun Flowerbeds
Flowerbeds with the only partial sun are ideal for bulbs. Dahlias, cannas, day lily, and the iris all do well in a North Texas flower garden with less than full sun exposure.
Hostas, in various shapes and sizes, can also add texture to the garden. As bulbs come back every year, you only have to plant once and you're done. However, in North Texas, a gardener does have to be on the lookout for grubs that may be attracted to bulb plants.
Shade Flower Gardens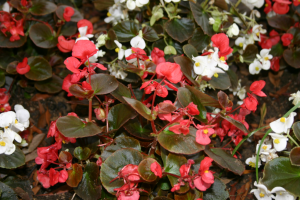 Begonias thrive in a shade garden. The dark green leaves and blooms in almost any color imaginable offer texture and color right up until the first frost hits the area. If your shade garden gets enough moisture, hydrangea will also offer beautiful rewards.
Planning Your Summer Flowerbeds
If you need assistance taking care of your flowerbeds, help is always available at Lawn Connections. Call our experts at 817-231-0042 and ensure you have the best flowers in North Texas.