How to Create the Ultimate Outdoor Oasis for Your Guests
The backyard oasis is an outdoor space that is made for relaxation and recreation, especially during good-weather seasons. Creating an outdoor oasis requires much planning and professional execution. From landscape design and installation to planning water features and outdoor furnishings, thorough research and planning can help you to ensure that all your choices work harmoniously.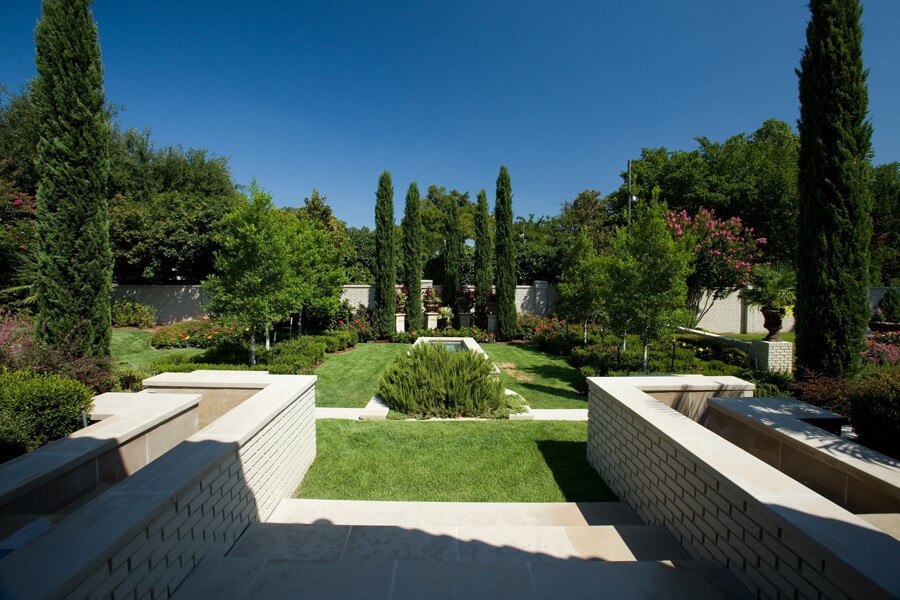 To save costs, some homeowners are tempted to go the DIY route to create their outdoor oasis, but this option isn't without its risks. As a non-professional, you may overlook critical planning aspects to ensure safe and expedient use of space and amenities. Also, you may fail to account for how each separate idea feeds into the next, creating muddled features and amenities that work against one another.
At Lawn Connections, we can help you visualize and execute a harmonious, peaceful, and luxurious backyard oasis. But even before we start, we'll ask you to find all the ideas that appeal to you. If you don't know where to begin, here are some ideas of key features usually added to backyard oases. Find out how to create an outdoor oasis to rival even the best resorts around.
Think about Privacy
The secret to creating a genuinely relaxing backyard is to start with privacy. There are many ways to ensure privacy in the patio or backyard, from privacy screens and green hedges to high fences and strategically placed trellises and planters. Even on your porch, you can add some curtains to the openings for privacy.
Having an enclosure will help you achieve the feeling of intimacy, closeness, and exclusivity, all critical to a magazine-worthy backyard oasis. At Lawn Connections, we can help you to create garden walls, trellises, pergolas, and outdoor screens, and to use green fences and plans to block the view of your backyard oasis.
Consider your Hardscaping
The deck or patio is the bedrock on which your backyard oasis sits. Lawn Connections specializes in building ground-level and upper-level decks depending on your needs. A deck or patio space is useful for planting furniture and is better suited for activities like gathering, dining, or outdoor cooking. Decks also add to the curb appeal of a home and raise their resale value.
Design your deck or patio as an extension of the interior and exterior style of the home for a blended look. We can build wooden, brick, or stone patios, adding textures and colors to complement the rest of your backyard oasis. Other kinds of hardscaping to consider are retaining walls and stone features surrounding your prominent water feature if any.
Choose Your Outdoor Structures
If you have some space in your front or backyard, you can add an outdoor structure to make your oasis even more luxurious. Lawn Connections can build a pergola or gazebo, whether planted within the landscapes, attached to your deck, or placed near your pool. The pavilion can double up as an enclosed room for dining, relaxing, or cooking.
You don't have to create a full gazebo though; use arbors, pergolas, or trellises to designate various activity zones within your backyard oasis. They can also be used to create focal points, separate the space by function or style, and transition from one activity center to another.
You can increase your pergola's appeal by investing in luxurious plants in containers, including vines that weave through the pergola to blend it into the rest of the landscape. However, you need some form of shade, even if you don't want a gazebo or pergola. Alternative options include retractable awnings, sun umbrellas, arbors, or even mature trees.
Read More about Shade Arbors or Metal Patio Covers.
Purpose a Conversation Area
Your placement of furniture on your deck or patio should support conversation and easy relations, especially if you intend to use the space for entertaining. There are several ways to accomplish this:
Placing a few chairs around an outdoor fireplace or fire pit
Placing four or more chairs in a circle around an outdoor table
Creating a dining area, outdoor bar, or any other sitting arrangement where people can sit and talk
At Lawn Connections, we can help you build a fire pit or implement another feature to serve as the center of attraction in your conversation area. When arranging the furniture, ensure it is close enough together to support conversation. You have many furniture choices, from cast and wrought iron to cast and wrought aluminum. Some people go for traditional wood or newer, synthetic outdoor furniture and waterproof fabrics.
Regardless of your choice, ensure the furniture and materials selected and intended for outdoor use. You can even find a waterproof table and floor lamps to light up your conversation area.
Install an Outdoor Kitchen
Outdoor kitchens have become increasingly popular, especially if you love to entertain or eat outdoors. At Lawn Connections, we can help you build outdoor ovens and create shelving and other amenities for your outdoor kitchen. Some features include separate stovetops and grills, closed storage, mini-bar area, and coal storage. You can also have a sink and refrigerator to ease cleanup and keep food fresh, respectively.
An outdoor kitchen should be complemented by an outdoor dining area, which includes weatherproof dining furniture and comfortable chairs. If you have limited space, a weatherproof bistro set works just as well as a dining table and chairs. For larger spaces, aim to seat at least 6-8 people in your dining area.
Include a Water Feature
No backyard oasis is complete without a water feature of some kind. Lawn Connections specializes in creating custom outdoor living pools, fountains, small waterfalls, babbling brooks, and other water features. Alternatively, if you prefer a place to soak after a long day, we can install spas or hot tubs according to your specifications.
Think about whether your water feature should be in the sun or shade, and the best location for greater privacy. When sizing a tub, consider additional room for sitting, and think about the number of people it will typically hold.
Create Your Own Outdoor Oasis
There are many other ideas you can implement to make your outdoor oasis perfect for rejuvenation and relaxation. As mentioned, before embarking on any work, it is critical to envision the complete plan, even if you implement it in phases. As always, you can talk to the Dallas and Fort Worth landscaping design experts at Lawn Connections if you need help bringing together the various ideas you have.