Get a Jump on Your Spring Landscaping Plans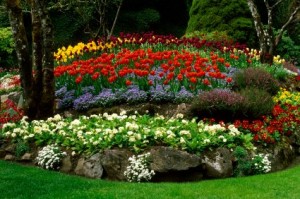 For those who love the look of a lush garden at the end of a long winter, now is the best time to get a jump on your spring landscaping plans. Because spring planting typically begins immediately after the threat of frost has passed, winter is the optimal time to firm up plans, plot out designs, and prepare for action. If you need help designing your landscape or need assistance turning your dreams of a colorful spring garden into a reality, Lawn Connections is here to help. As your local Keller landscaping experts, we're experienced in every aspect of spring landscape design and installations.
Explore the Possibilities
Long winter nights present multiple opportunities to consider what features in your landscape would benefit from a change. Perhaps you'd like to enhance any outdoor living space by surrounding it with raised beds brimming over with spring blooms. You may want to add stone paths and walkways that will make it easier to traverse your landscape in wet spring weather. You might be wondering how to take advantage of spring growth to improve the appearance and durability of your lawn. The best time to make plans for landscape improvements is well before spring arrives.
Hardscape Installation Options
In addition to creative and practical solutions for planting flowers, shrubs, and trees, Lawn Connections can create handsome permanent features and focal points for your landscape as well.
At Lawn Connections, our skilled landscaping team of professionals has widespread experience in an array of hardscape installations, including:
Pools, ponds, fountains, waterfalls, and hydroponic gardens
Patio and deck covers, arbors, and pergolas
Borders, paths, walls, and patios
Outdoor kitchens, bars, and play areas
Fire pits and fireplaces
A well-designed and constructed landscape installation will enhance your life at home in every season of the year. The right design and installation let you enjoy the pleasures of life outdoors in maximum comfort.
Make plans to get the most out of your garden this year. Call Lawn Connections today at 817-231-0042 to schedule a consultation with one of our talented designers.