Custom Backyard Hardscape Designs from Lawn Connections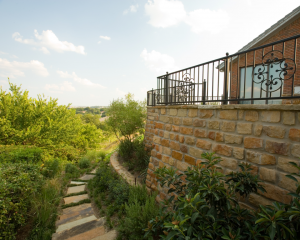 Just as interior design elements like fireplaces create strong focal points that define your Southlake home's decorative style, hardscape features can add eye-catching features to your outdoor landscaping. A backyard hardscape installation from Lawn Connections can enhance the functionality of your garden as well. Whether you want to add a simple stone fountain to your garden or you're dreaming of a total backyard transformation, our expert stone masons have the skill and experience to turn an ordinary backyard into something special.
Backyard hardscape installation
A backyard hardscape installation from Lawn Connections can make your garden work and look better. A retaining wall can showcase trailing plants while protecting your patio from flooding in heavy rains. A simple pathway can provide access for garden tasks while inviting family and guests to explore the beauty of your garden. Our Southlake landscaping designers are experts at combining functionality with great design.
A landscape installation that includes custom hardscaping can turn a garden into an outdoor living space. Whether it's a fire pit or fireplace that takes outdoor entertaining into the evening or a brand new flagstone patio, Lawn Connections can help you expand your home's living spaces into the great outdoors. Hardscapes from the pros at Lawn Connections not only raise your family's enjoyment of outdoor living but also raise the market value of your Southlake home as well.
Imagine a stone path in your garden leading up to a splashing waterfall tumbling over a stone wall into a tranquil pool. Consider a planting of graceful ferns and a shady stone bench from which to view the scenery. At Lawn Connections, we're all about making your dream of a natural paradise a reality in your own backyard. We can create settings of relaxation and rejuvenation that your family can enjoy for years to come.
From simple borders for garden beds to complex multi-level installations that completely transform the look of your backyard, you can depend on the designers and craftsmen at Lawn Connections for quality work and imaginative design. Call us today at 817-231-0042 to learn more about how hardscape features can enhance your life at home.