Add a Fire Pit for Backyard Fun this Fall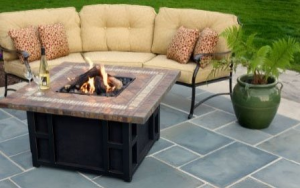 Gathering around a fire with your family and friends is one of life's oldest and best-loved traditions. At Lawn Connections, we have the experience and skill to create a beautiful and safe place for you to enjoy a fireside experience in your own backyard. Our goal is to design a feature that will complement the style and scale of your home and landscaping.
Living space
Add valuable living space to your home by making your outdoor areas more comfortable and inviting. Fire pits allow you to sit outside later into the evening and later into the year. As a Keller landscaping company, we understand the climate of the region. We know which materials will work best for the weather patterns we typically experience. We will also take into account the unique qualities of your space. We are adept at incorporating flagstone, limestone, chopped stone, ledge stone, and moss rock in addition to a multitude of brick and stucco treatments into your structure. You may also choose to add lava rocks or colorful crushed glass to direct the heat from the fire and to reinforce your decorative theme.
As landscaping experts, we will work to ensure that your new fire pit will function well within your overall landscaping installation. Whether your fireplace is the centerpiece of a large outdoor room or if it sits in a cozy corner of your patio, we know that style can be as important to you as to how your fireplace operates. Rely on our design experience to help you choose the look that you want and our construction skills to fabricate the ideal structure to enjoy a fire in your backyard.
Lawn Connections is qualified to fulfill your preference to fuel your fire with either gas or wood. We are ready to work with you to design a vibrant setting that you may enjoy whether you spend a quiet night under the stars or amidst a large gathering of family and friends. Call us today at 817-231-0042 to get started enjoying a new way of living in your backyard.