We are ready to help you with Landscaping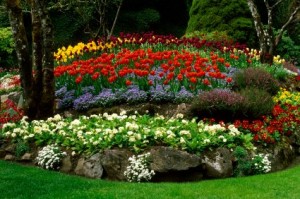 How depressing is it to pull up to your place of work and have a dead tree and some patchy grass welcome you in? Or, how often do we judge a business by the wilting flowers in their front flowerbed? The look of the landscaping in front of your business is important. Of course, you already have a lawn at home to take care of, so you don't have the time to spend on the one at work too. That is where Lawn Connections comes in. Not only can we take care of your personal lawn, but also the one at your business.
First impression is everything
Since the first impression is everything, we ensure that your landscaping looks beautiful and inviting, no matter your budget. Our highly trained professionals can perform a wide range of services, from landscaping to irrigation checks. We regularly evaluate our staff and retrain them to keep their skills sharp and current.
We offer many great commercial lawn services. Lawn Connections' fully trained and fully insured professionals can come to mow, plant, and maintain flowers, maintain shrubs, fertilize, perform weed control, and a few other things. We have a variety of pricing packages that can fit any budget but will never sacrifice quality.
Looking to impress a new client or boost employee morale? Give Lawn Connections a call or check out our website and see how we can help you!