Expert Outdoor Kitchen Design in DFW
An outdoor kitchen is a huge undertaking but a great asset, especially for those that entertain outdoors often. Cooking by the pool or being able to talk with the family while you barbecue on the Fourth of July are two ways that outdoor kitchens can help you make memories and enjoy the outside of your home the way it was meant to be. Lawn Connections has helped design and install outdoor kitchens for many Dallas homeowners, and our experience can help you in this endeavor as well. We can give you all the options; counters, cabinets, accessories, and shapes that you can choose form. We can tell you what is best for your needs and the dimensions of your yard and landscape. That is what we are here for—to provide you with the backyard you want. Your home should be something that reflects you and your family. Our landscapers and contractors are happy to help you achieve that.
Benefits of an Outdoor Kitchen
Keep your house smelling fresh no matter what you cook
Keep utility bills down while cooking
Increase the value of your home
Perfect for entertainment so you can still be a part of the action
Wow factor for family and friends
Grilling is healthier for you and your loved ones
Gives your family another place to gather and enjoy each other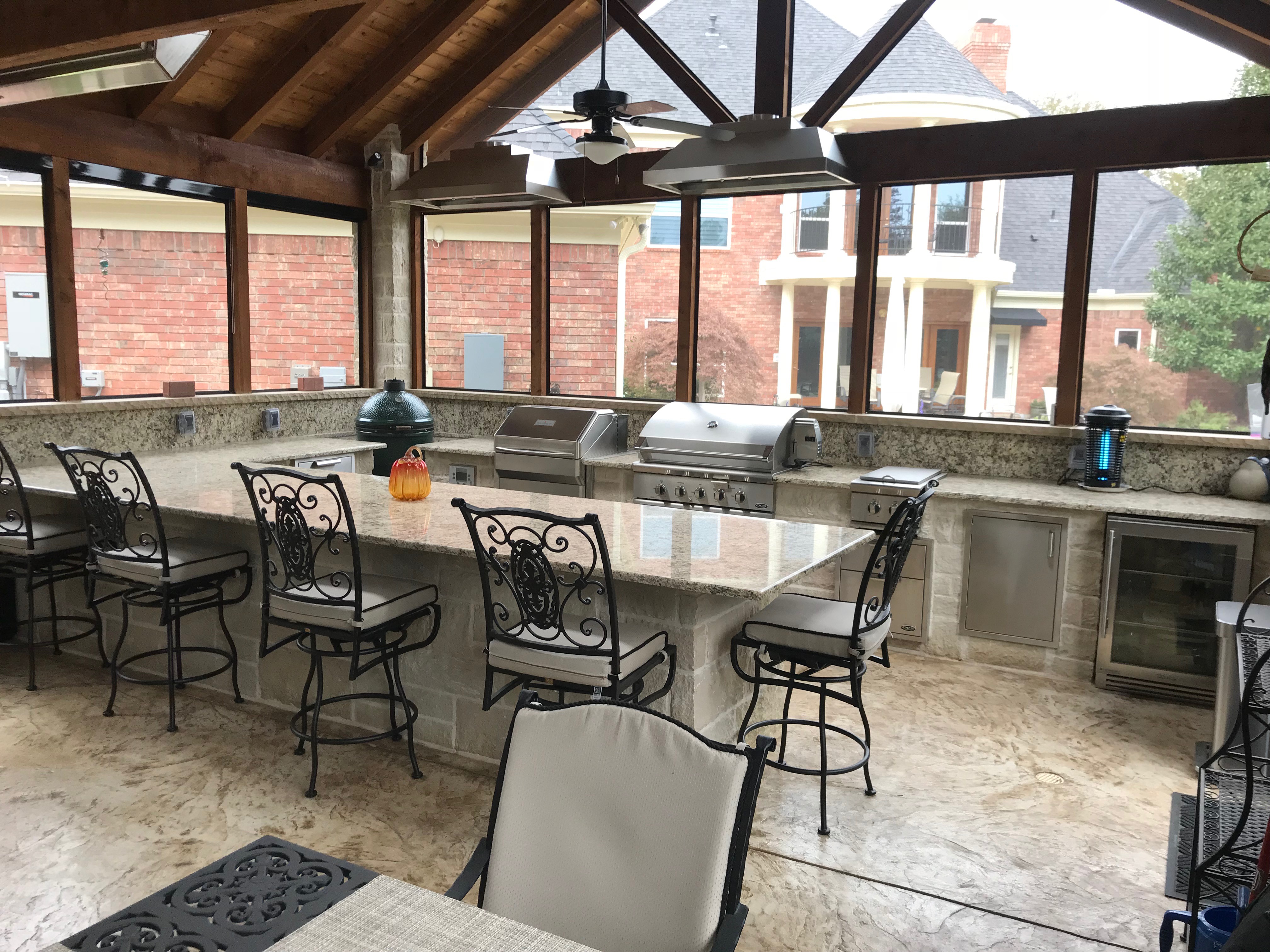 Outdoor Kitchen Ideas
Designing an outdoor kitchen can leave you reeling from all the options that we can offer. The whole process is completely customizable. You get to pick out every appliance and style element, as well as accessories for your outdoor kitchen. You can even choose to have the kitchen built in any shape you want: a line so that you can overlook the yard, or a U-shape to contain a whole outdoor dining area for your family. It is one of the most fun projects that we get to work on at Lawn Connections, and we think that you will agree. Some of the options we offer that you can choose from include:
Built-in grills or smokers
Sinks
Ventilation
Outdoor kitchen storage
Food warmers
Custom islands
Pizza ovens
Spice racks
Outdoor kitchen furniture
Outdoor Kitchen Cabinets
One of the largest pieces of design you get to add to your outdoor kitchen is the style of cabinet. You may be afraid that options are limited since they will need to be sturdy and safe in the elements like the Texas heat and the rain, but there are actually plenty of ways to customize your outdoor cabinets despite this requirement. As long as they are waterproof and fully enclosed to keep out critters and dirt, they will work. Some of the most common options are:
Masonry
Stainless steel
Wood
Polymer
We can help you decide what is best for your home and your style and budget. If you are ready to start this process with us, contact Lawn Connections by calling 972-418-LAWN.
Other Outdoor Living Services at Lawn Connections