From Backyard to Outdoor Living Space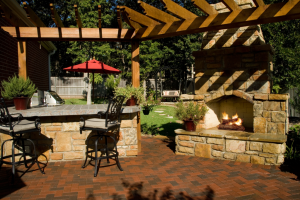 Here at Lawn Connections, we know how to transform an ordinary backyard into an outdoor living space. Over the last few years, people have begun to reconnect with outdoor activities, and they enjoy spending time relaxing and entertaining in outdoor areas. Technology in materials and manufacturing has advanced to the point that living spaces can be custom-built for outdoor areas using products made from materials that hold up to the elements.
The Perfect Entertaining Space
We know exactly what it takes to provide you with a custom outdoor kitchen or a backyard living space that is as comfortable as your living room. Outdoor kitchens include the standard barbecuing area as well as stove-type burners to cook food in regular pots and pans. We can provide outdoor refrigeration units and cabinets to keep your cooking supplies handy. Also, do not forget the outdoor sink for cleanup. You can have your outdoor space roofed over to make the space usable even when the weather is not cooperative.
Your custom backyard living space preference may be to have the comforts of your indoor living room recreated outside, complete with furniture and a TV. Old lawn furniture cannot compare to modern couches and recliners that are available and feature plush cushions that hold up to the sun and rain.
Day to Night in No Time
For enjoying a time of entertainment and relaxation in your outdoor space into the evening, we recommend an outdoor fireplace or fire pit. We even have outdoor heating systems so you can enjoy your space outside even longer.
We are here to make your outdoor living space a reality. Whether you have a simple design in mind or you'd prefer an outdoor space that includes a stamped and colored concrete patio along with a roof, we can do it all. Get out of the house and into the fresh air in your own custom outdoor living space.
At Lawn Connections, we are your Southlake landscaping experts. For more detailed information on how we can transform your ordinary backyard into a comfortable and beautiful living space, give us a call at 817-231-0042.