Add a Patio Cover to Your Backyard Today!
Patio cover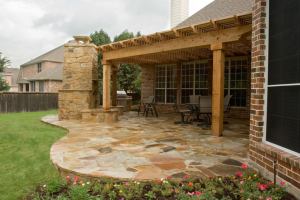 Lawn Connections is the local authority on lawn, landscape, and hardscape surfaces. We have dedicated ourselves to learning as much as possible about each of these areas, and we have already helped many customers to create award-winning lawns and landscaping features. A beautiful lawn and well-manicured landscaping design are crucial to the overall beauty of any home, and we have all of the tools, products, and knowledge needed to transform your yard.
Our Fort Worth landscaping contractors are able to build a design that will truly enhance the look of your home. We are able to instantly add the right types of bushes, flowers, and other features to make your home more attractive. The design specialists that are part of our team also understand that your yard must be functional. We can provide the right landscaping for any family.
Installing Patio Cover
The hot Texas sun can really make going outdoors rather bothersome. Let us install a great new patio cover to keep the heat off of you and your family so you can all enjoy the beautiful summer sun. These patio features come in a wide assortment of different sizes, colors, and functions. We can even custom-build one for you. We will work with you to decide which patio cover will best suit your wishes, and then our licensed, bonded, and insured contractors will install the cover for you. Within a short amount of time, you will have a beautifully covered patio that you can use year-round.
A proper landscaping installation will draw people to your home and improve the value of your property. The landscaping projects can be difficult to accomplish alone, and that is another reason why we continue to grow and strive in Texas. We provide an affordable solution to maximize the effectiveness and look of your home's landscaping.
Lawn Connections is the one-stop-shop for all of your lawn and garden needs. Our experts even place concrete and other hardscape surfaces. Let us work with you to create an outdoor environment that you will love coming home to. Call us right now at 817-231-0042 to set up a consultation.