Affordable Lawn Mowing Service
Mowing by Uniformed, Trained, Fully Insured Lawn Care Crews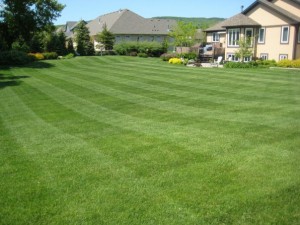 The key to a perfect lawn is mowing at the right time, using the right methods with the right equipment. Why spend the time and effort doing it yourself, or taking a chance on amateur lawn mowers, when you can call on the top local lawn care experts to do the job right?
Our Haslet TX lawn mowing company gives you reliable mow dates with outstanding customer service to meet your personal needs and your budget.
For best mowing results, Lawn Connections considers several factors before recommending how often you should have your lawn mowed. We look at turf height, amount of moisture in the ground, grass type, and outside temperature.
Typically, you never want to cut more than one-third of the grass height, in order to prevent damage that might restrict future growth. This rule of thumb also ensures that you're not accumulating too many clippings on the lawn surface, which can stop oxygen, nutrients, and moisture from getting to the root system.
Lawn Trimming
Trimming your lawn (around buildings, flowerbeds, borders, fences, etc.) can turn an "adequate" lawn into a beautiful lawn. Trimming removes the grass growing in areas that are too difficult for a lawn mower to reach.
Edging
Edging will make your lawn the envy of your neighborhood! Sidewalks, driveways, and street curbs, when properly edged, will give your lawn that touch of class. We give you outstanding results that show everyone how proud you are of your lawn, because we take great pride in our work.
Cutting Grass
Lawn Connections views proper cutting of a lawn as an all-important component of a lawn's nutritional program. Grass clippings release nitrogen as part of the decay process. The clippings help protect the soil by producing a moisture barrier that helps reduce evaporation during the summer months. We take precautions to ensure that the clippings are small enough so they will not cover soil with a hard crust that prohibits rainwater from entering the soil.
Convenient Payment for Lawn Mowing
In addition to saving you the expense of buying, fueling and maintaining your own lawn care equipment, Lawn Connections' mowing service offers affordable lawn care pricing to fit any budget. There are no confusing contracts to worry about. We provide the mow dates you want at the price you need, and automatically charge your credit card after each mow. it's convenient and secure.
Call Lawn Connections 817-231-0042 for prompt, professional lawn mowing service in the Dallas-Fort Worth Metroplex –  Tarrant County, Denton County, Haslet TX and beyond!