Best Water Feature Contractors in DFW
Water is an essential piece of life, and it can also be something beautiful. That is why so many of our customers at Lawn Connections want to talk about a water feature in their lawn or backyard. When it comes to water features, the possibilities are almost limitless. The only thing holding you back is your own imagination. Our landscapers and contractors are ready and willing to create any structure you wish for your home landscape, including a completely custom water feature design. It is our goal and pride to make your vision into a reality, and we offer many materials and options that you can choose from if you want to add water to your yard.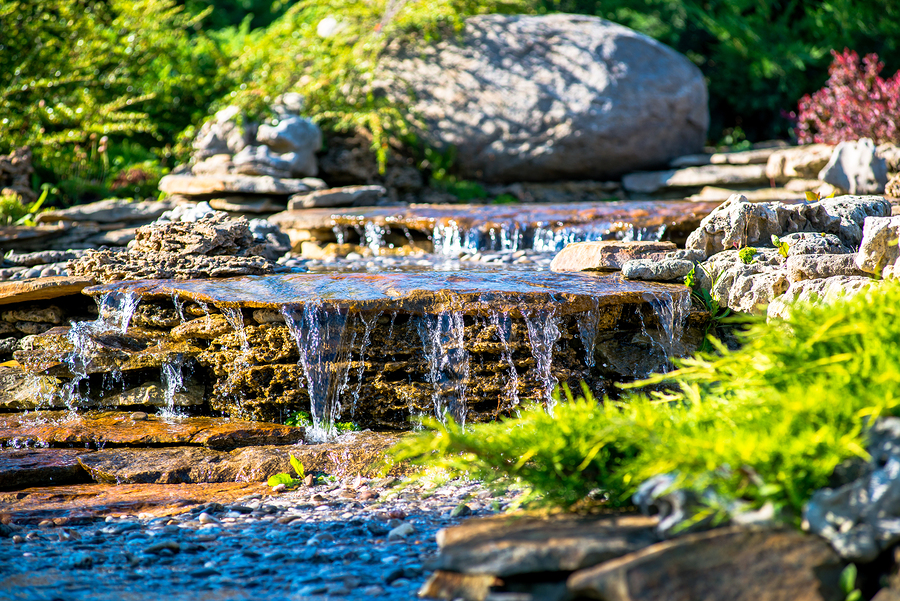 Water Feature Options
So, what is a water feature? A water feature is any decorative piece that goes in your yard or lawn that involves water, usually flowing. Small and large fountains and bird baths are two common examples that we install frequently at our Dallas landscaping company. Lawn Connections can help you with all of the following and more:
Koi Ponds
Garden Fountains
Bird Baths
Custom Water Features
Water Walls
Water Gardens
All you have to do is sit down with one of our experienced professionals, and we work with you on the design and installation from start to finish. We think of you as part of our team so that you can get the end product you have been dreaming of.
How to Design Garden Fountains and Other Water Features
Designing and installing water features may seem like a complicated job, and it is. That is why we offer this service to Dallas-Fort Worth residents, so they do not have to tackle it alone. However, when you choose us, our experience and precision means you are in good hands. We always start with a vision, which is the image you have in your head about what will make your backyard landscape perfect. Then, we gather the materials and tools, showing you the options you have. You choose and approve a final plan, then we install it, taking care of all the technical details like finding the water line that will supply the water feature and ensuring it is an ideal spot in your yard for drainage purposes. We put your ideas and wishes first and combine that with our expertise for the best final product.
Other Outdoor Living Services at Lawn Connections
Contact Lawn Connections Today
Are you ready to install that outdoor fountain or water wall? It's time to call in a team of landscapers who can help you design and build it. We want to give you the home you have been hoping for. Contact us at 972-418-LAWN.