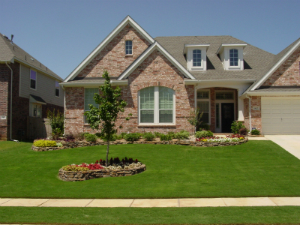 When designing their own lawns, most people think about the big things. They decide what flowers, trees, shrubs, and other plants they want, and where to plant them. They may make arrangements in terms of watering, mowing, and the occasional trim…but to have a truly gorgeous lawn, you need to consider the little things. Or you can hire us to handle them for you!
One item people tend to forget is lawn edging. It's not enough to simply mow the lawn. That will keep your grass from getting too long, but it won't make your lawn look as clean and tidy as you might think. Trimming the edges (or "edging") provides that look.
Many people would like to edge, but lack the appropriate equipment (a lawn edger) to do it properly. That's where Lawn Connections comes in! Our expert crew uses professional-grade equipment to provide your lawn with a flawless finish. That's in addition to handling the primary mowing, as well as tree and bush trimming, hedging, planting, pet waste removal, and other maintenance. Why spend your summer slaving over a lawn mower when we can handle it for you, freeing you up to enjoy your weekends or vacation.
If you're ready to take your lawn to the next level with professional care, be sure to contact us today!