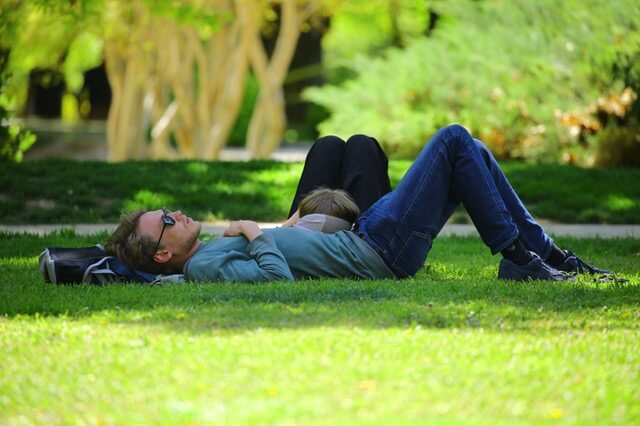 Lawn Mowing Services in DFW
Caring for your beautiful landscape is just part of being a homeowner. Once you have our professional team of landscape installers design and implement your lawn design, you want to keep it looking just a beautiful as the first day of installation. Some of this is as simple as installing an irrigation system or other water care, but other tasks can turn into back-breaking chores that steal your time and hurt your joints, depending on your age and health. You have to worry about keeping a well-mowed lawn and a pristine backyard. You have to worry about clean up after a storm and plenty of other things when it comes to caring for your backyard or front lawn.
That is why many homeowners choose to look for professional lawn care services from companies such as Lawn Connections. We have the experienced and skilled staff needed to take care of the outdoor spaces of your home. All you have to worry about is making that first call.
Why Choose Professional Lawn Care?
There are many benefits to choosing a 
lawn mowing
 company over doing all the care for your yard yourself. Texas heat can make some people sick, and if you are not a professional lawn care technician, then you could end up being out there in the heat for hours at a time just trying to keep your outdoor spaces looking beautiful. Your time could be spent doing better things, like enjoying your new landscape installation with your family and friends. A lawn mowing service can care for your lawn quickly and efficiently with little hassle. You can sit back and let us do all the work.
Affordable Lawn Services from Lawn Connections
Have a budget? That is not a problem at Lawn Connections. Our lawn mowing service offers many different packages to meet your needs, whether it's a one-time job or a reoccurring weekly appointment. Our services can be catered directly to your needs as well as the needs of your landscape. On top of our lawn mowing services, we also offer plenty of lawn maintenance services to make sure that your landscape installation stays just as beautiful as the first day we installed it. Ask us about the following:
Artificial Grass

Hardscapes

Erosion Control

Mulch

Irrigation Systems

Landscape Design

Retaining Walls

Tree Service

Shrubs

Clean Up
Lawn Connections employs lawn mowers that know exactly how to make your lawn look well-cut, green, and cared for. They have been doing this for years and know just how to handle each job in a professional manner. If you are looking for lawn care services and lawn mowing, we offer great prices and services that do not take up too much of your time. Each time our lawn mowing contractors come to mow a lawn, they are ready to work. All the equipment they need travels with them so they can be in and out of your home in no time. Plus, we offer convenient services that save you time and headaches throughout the year such as:
Weekly, Bi-Weekly, and Monthly Plans

No Price Haggling

Guaranteed Service

No Obligation Quotes

Licensed and Insured Contractors

Well-Trained, Friendly Staff
Dallas Fort Worth Lawn Mowing Contractors
If you are looking for a lawn mowing service in the Dallas Fort Worth area, look no further than the experience and excellence of Lawn Connections. To talk with us about our lawn mowing or landscape installation service, 
contact us today
 by filling out our convenient online form or 
call us
 at 972-680-8878.
---
Mowing by Trained and Fully Insured Lawn Care Crews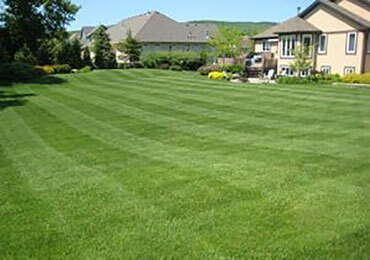 The key to a perfect lawn is mowing at the right time, using the right methods with the right equipment. Why spend the time and effort doing it yourself, or taking a chance on amateur lawn mowers, when you can call on the top local lawn care experts to do the job right?
Our Haslet TX lawn mowing company gives you reliable mow dates with outstanding customer service to meet your personal needs and your budget.
For best mowing results, Lawn Connections considers several factors before recommending how often you should have your lawn mowed. We look at turf height, amount of moisture in the ground, grass type, and outside temperature.
Typically, you never want to cut more than one-third of the grass height, in order to prevent damage that might restrict future growth. This rule of thumb also ensures that you're not accumulating too many clippings on the lawn surface, which can stop oxygen, nutrients, and moisture from getting to the root system.
Benefits Of Hiring A Professional Lawn Mowing Company
Easily the biggest reason to hire a professional lawn mowing company is to save yourself a bit of time. As a homeowner and busy individual, chances are you are working with very limited free time when not at the office working. You could spend several hours on the week slaving away at the lawn, or you could simply hire professionals with the expertise to handle the job with ease.
Our experts know exactly what they are doing when it comes to caring for your lawn. Thanks to our knowledge and expertise, our results are far above average. In fact, we'd be so bold as to say they are extraordinary. We work directly with homeowners to meet their needs down to the minute detail.
Some folks certainly do enjoy working on their lawn, and that is completely fine, but many just want the opportunity to sit back and relax without sweating too heavily. This is a labor of love that we take on happily.
What's included with this Lawn Mowing service?
Included within our lawn mowing service is a bevy of other little services that go towards ensuring your lawn is looking as pristine as possible – something you can truly be proud of when having company over during the warm summer months. For starters, we trim the entire lawn until it is as beautiful as possible. Trimming will remove all of the grass that is growing in unwanted areas where the lawn mower is incapable of reaching. Next, we edge the entire property, including sidewalks, driveways, and the curb at the street. Lastly, we clean up the entire mess left behind after clipping the entire lawn. No one wants an unsightly mess bogging down their yard – we understand this completely. We blow off every hard surface, removing the clippings, and shaping everything up as best as possible. With our service, you save money and receive quality service. It's a win-win situation.
Trimming your lawn (around buildings, flowerbeds, borders, fences, etc.) can turn an "adequate" lawn into a beautiful lawn. Trimming removes the grass growing in areas that are too difficult for a lawn mower to reach.
Edging will make your lawn the envy of your neighborhood! Sidewalks, driveways, and street curbs, when properly edged, will give your lawn that touch of class. We give you outstanding results that show everyone how proud you are of your lawn, because we take great pride in our work.
Lawn Connections views proper cutting of a lawn as an all-important component of a lawn's nutritional program. Grass clippings release nitrogen as part of the decay process. The clippings help protect the soil by producing a moisture barrier that helps reduce evaporation during the summer months. We take precautions to ensure that the clippings are small enough so they will not cover soil with a hard crust that prohibits rainwater from entering the soil.
Clean up consists of blowing off the grass clippings from all the hard surfaces before we leave.
Regular lawn maintenance is important for keeping your lawn looking healthy and lush. However, if you want to keep your free time as your own, you can outsource your lawn maintenance. For those who don't want to spend their Sundays mowing, professional lawn moving services are a great option.
One of the biggest reasons people forego hiring a professional landscaping company is the price. However, lawn mowing service does not have to be financially out of reach. Lawn Connections offers affordable lawn mowing service that will save you time and hassle. In addition to straight mowing, our services include edging, weed eating, and other services. Your lawn will look sleeker than ever before!
To receive an accurate pricing estimate and to inquire about our lawn care services, contact Lawn Connections today.
Will my lawn care specialist haul away my yard waste?
A lawn care specialist has been trained extensively in ensuring the appearance of a client's lawn is above their expectations. To that end, we are more than willing to remove any yard waste or grass clippings caused by a lawn mowing or servicing. After every clipping, our professional crew moves through the entire yard once more to blow all clippings off of the hard surfaces in your yard. If left behind, these clippings tend to smell and are completely unsightly in appearance. As someone who takes pride in their yard, we understand you may not want to look at the leftovers from a good, clean lawn cutting.
We currently also offer pet waste removal services, should you have a dog that enjoys hanging around the backyard. We provide year-round waste removal for any size lawn and for those with any type of budget. Just give us a call!
Convenient Payment for Lawn Mowing
In addition to saving you the expense of buying, fueling and maintaining your own lawn care equipment, Lawn Connections' mowing service offers affordable lawn care pricing to fit any budget. There are no confusing contracts to worry about. We provide the mow dates you want at the price you need, and automatically charge your credit card after each mow. it's convenient and secure.
What is included in the regular mowing service?
Why spend your own time and effort mowing your lawn when you can hire a professional to do it for you? When you select Lawn Connections as your lawn care provider, we guarantee your satisfaction. We include a variety of smaller services within our regular mowing service, so you can reap the full benefits of professional lawn care.
Here are just some of the other services included in our regular mowing service:
Trimming
Edging
Leaf blowing
Cutting grass
Comprehensive yard clean-up
Other Lawn Maintenance Services
Lawn Maintenance
Shrub Maintenance
Flower Bed Maintenance
Pet Waste Removal
Commercial Lawn Maintenance
Do you want to hear more about our mowing services and other top-quality lawn care treatments? Contact the Lawn Connections team today!
Call Lawn Connections (972) 680-8878 for prompt, professional lawn mowing service in the Dallas-Fort Worth Metroplex –  Tarrant County, Denton County, Haslet TX and beyond!