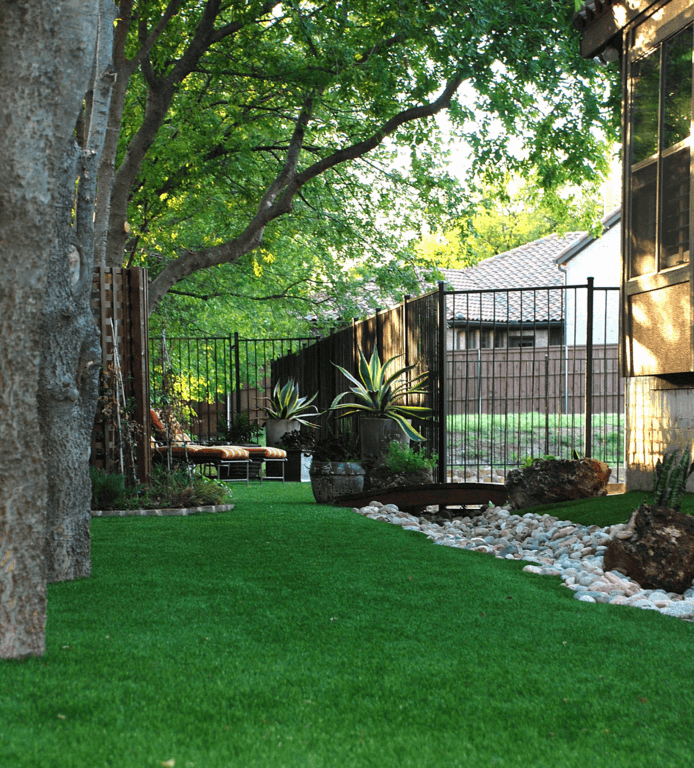 Landscapers in Dallas-Fort Worth
So, you have finally purchased a home. It could be your first home or your fifth, but you are ready to make it your own. One of the best ways to do so is to hire a landscaper to create the perfect lawn or backyard for you and your guests to enjoy. Nothing makes a home yours more than a relaxing and beautiful outdoor living space, created and designed by you with the help of expert landscapers. Whether it's a themed pool landscape, lawn mowing and shrub maintenance, or flowerbed design, Lawn Connections would love to help you make your home a paradise.
We bring our expertise to your vision, and then we work as a team to make it happen. We can discuss with you what plants work best in hot Texas summers or freezing Texas winters, as well as let you know how to care for them. We can help you set up the best system for watering your plants year-round, even during water restrictions. It's always best to consult with knowledgeable landscapers to get the job done right. It can save you time, money, and heartache of a DIY job gone wrong.
Choosing the Best Landscape Design Company for You
It can be hard to trust contractors with your home and precious belongings, but if you choose the right company, you will never have to worry. Lawn Connections knows that you need professionals to handle your landscape design. How can you know you are in good hands?
Years of experience
A proven track record of excellent service in the community
A portfolio of beautiful landscaping work
Expertise to help you choose the right plants and irrigation setup for your needs
Working with your budget and style
Landscape Maintenance and Lawn Services
So, you have a beautifully landscaped lawn, but that is only the beginning of having a beautiful outdoor living space. Caring for that lawn can get complicated, especially if you do not have a green thumb. That is why Lawn Connections offers customers in Dallas and Fort Worth many services that can help you maintain your yard. From shrub and flowerbed maintenance to lawn mowing and weed control, we have the tools and the packages you need to keep your home landscaping looking just as good as the day we installed it. You don't have to spend your weekends in the hot sun, trying to pull weeds and picking up pet waste. Our lawn technicians can do all this and more for you in a quick and efficient manner while you relax with your family.
Contact Us Today
Are you ready to start making your dream landscape a reality? Or do you need lawn maintenance services in the Dallas TX area? Look no further than the experienced team at Lawn Connections. Feel free to contact us using our convenient online form, or call us now to speak with one of our friendly customer service representatives. Our staff can answer any questions you may have about our services and prices.
Our helpful staff can schedule appointments when it is best for you. We work on your schedule and budget. Call 972-418-LAWN.