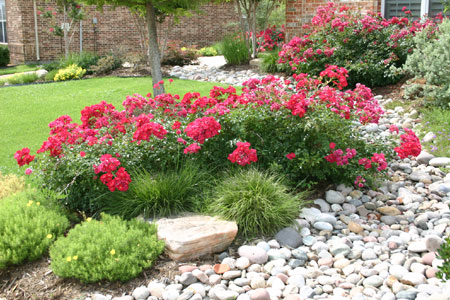 This year, a great way to welcome Spring is to redecorate and acquire a fresh, stylish landscape. As a team of expert professionals in landscaping, Lawn Connections is the ideal choice for Fort Worth landscaping, both in installation as well as inspiration. We offer wonderful ideas by which you can create the perfect outdoor scenery, and our landscape installation services are second to none.
Our rich repertoire of decorating ideas includes:
Landscape Lighting & Borders
Patio Covers
Arbors & Pergolas
Decks
Firepits & Fireplaces
Outdoor Kitchens
Stonework & Hardscapes
Water Landscaping
Architectural Landscape Ideas
With the wide array of options that we offer, adding a touch of personality to landscape design has never been easier.
A patio cover, arbor, or pergola can add a completely new outdoor room to any house. They provide shade from the sun and shelter from precipitation, so they are as functional as they are beautiful.
Decks can also bring the feel of a room extended from the house with options of privacy screens, planter boxes, benches, railings, wrap-around stairs, and more. Stonework such as fireplaces and chimeneas are stunning completions to a homey atmosphere, and ovens or grills create atmospheres for perfect outdoor kitchens.
Decorative Landscape Ideas
Lighting is an excellent means of completing the perfect outdoor look. It allows for the enjoyment of outdoor yards during evening hours and provides a warm, welcoming atmosphere to any home. We provide a wide selection of lighting fixtures that complement any lighting needs, from pathways to pools and beyond.
Also, to bring a sense of nature or calm and coolness to your landscaping, water features such as fountains, ponds, or waterfalls make perfect additions.
At Lawn Connections, we offer a fresh outlook on beautiful landscaping ideas for your spring plans, and our professional installers guarantee customer satisfaction with the finished product. Call us today at 817-231-0042 to learn more about our landscaping and installation services, and don't forget to ask about style tips from our landscape designer!