Outdoor Fixtures Installation & Replacement Services in DFW
Summer days are not the only times you can enjoy your perfect outdoor living setup. Cool autumn and winter evenings can be spent sipping your favorite drink and holding hands in front of a warm, dancing flame. You can even enjoy the sight and feel of a fire while having a relaxing night in the hot tub. Fire pits and outdoor fireplaces are great additions to your landscape, and there are so many designs we can offer you that will have you and your guests saying "Wow!"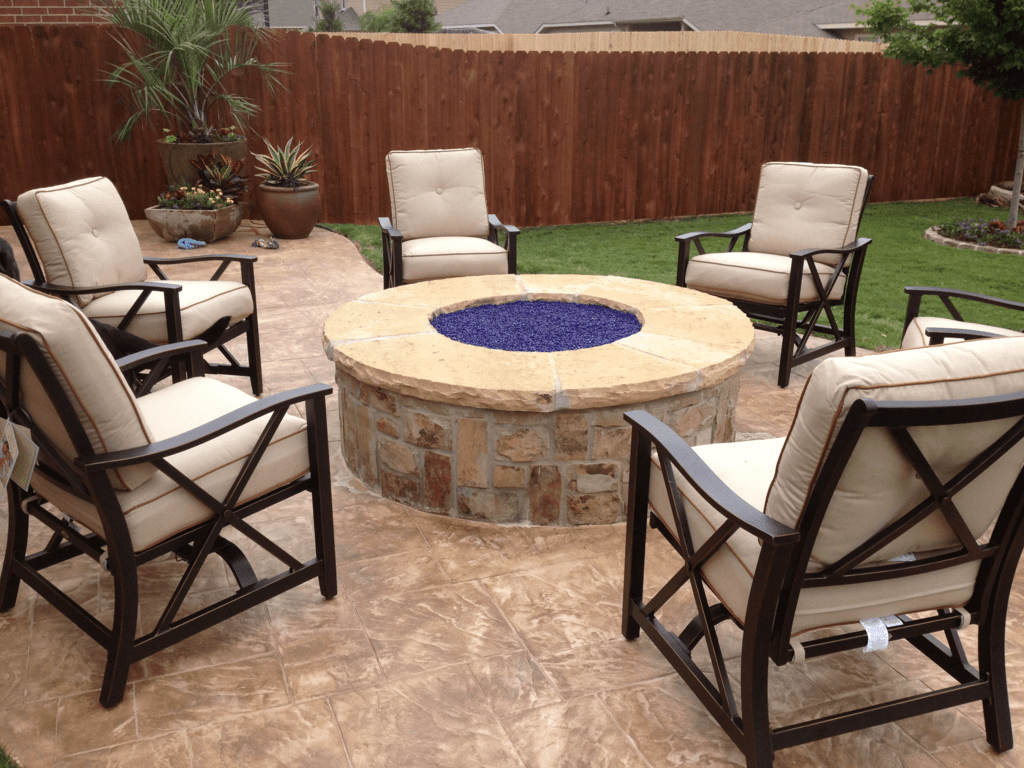 Why Have an Outdoor Gas Fire Pit?
An ambiance with a cozy glow, warmth on a cold but beautiful night, roasting marshmallows with the kids as if you were camping… all these things are possible with a fire pit. Fire pit tables can be placed near your favorite spots—near a swing, on your patio, or right by the pool—giving an added wow factor to the look of your outdoor space at night, as well as providing entertainment and warmth for special occasions.
Outside Fireplace Options in DFW
Your living room is not the only place where you can have a stylish and warm fireplace. In fact, gas fireplaces have become increasingly popular outdoors. If you love being outside, especially in your newly landscaped yard, then a fireplace could help you enjoy your backyard year-round. There are many designs available; stone, concrete, and more. We can help you design the perfect fireplace to create that cozy space that makes you and your loved ones feel even more at home.
Fire Pits vs. Outdoor Fireplaces
Both of these provide a certain style and warmth to your backyard, so how can you choose the right one? We have found that it really comes down to the vision of the final product. Are you looking to entertain guests and the whole family? Fire pits are usually good for this, gathering people around just as if you had a campfire out in the woods. A fireplace lends itself to an entire outdoor living room. If you see yourself creating an area to lounge and relax alone or with a loved one, sipping wine and cuddling under a blanket, a fireplace may be more of what you're looking for. It gives an entire feeling of calm and romance.
Other Outdoor Living Services at Lawn Connections
Let Lawn Connections Make Outdoor Entertainment a Snap
We know how Texans love to entertain their guests and figure out who has the biggest and best of everything. At Lawn Connections, we make it our job to provide you with the best products and designs for your yard and lawn. We can help you make your home your own. Contact us today to start the process or to learn more about fire pits and fireplaces. Call 972-418-LAWN.