Best Decks Builders in DFW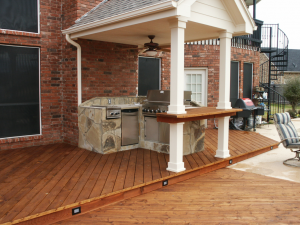 Everyone enjoys relaxing on the deck, taking in the view over a beautifully landscaped lawn, but you may not realize that the deck is also part of the landscape. For outstanding customer service and design help to build the deck of your dreams, Lawn Connections should be your first choice. We can turn your ideas, inspirations and rough sketches into reality at an affordable price.
We specialize in ground level and upper-level decks, including accessories such as railings, wrap around steps, closed skirting, benches, planter boxes, privacy screens, and many more options. If you are not sure what you want, our deck landscaping designers are happy to consult with you to suggest solutions. Our ultimate goal is to create design options that address all your needs.
Planning Your Deck
The key element in building a deck is the plan, which can serve as a guide throughout the construction process. One of the most critical steps is to properly size and draw decks to meet existing codes and lumber tolerance. After we complete a sketch, decide on what type of materials to use, and where to place the deck, materials can be purchased. We get a permit and begin guiding the deck construction process.
Other Landscaping Services
By selecting Lawn Connections as your landscaping deck company, you receive outstanding service and reliability. We have earned the trust of many customers over the years, and look forward to providing the same excellence to you. Contact us today 817-769-6930 or contact us online for deck landscaping consultation and information.