Custom Pools in DFW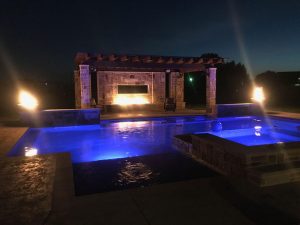 In Texas, it is no secret that we, as a community, love to swim. The summer weather around here, as you well know, is blistering at times. An escape into the backyard pool is almost a necessity for many homeowners, Children, especially, love to hop in the pool on the weekends. Your backyard's custom pool was an investment, and now it's time to care for that investment. At Lawn Connections, we provide landscaping and lawn maintenance for custom pools to ensure quality and safety for all.
Local Landscape Professionals
Whether you are looking for a custom swimming pool with intricately designed features, or perhaps an impressive landscape that compliments your new pool, Lawn Connections can make it happen. We work with homeowners directly to ensure your goals and vision are brought to life.
A few of the exciting landscaping options we can accomplish include:
Safe and enjoyable play spots for children, including river rocks, fountains, lap pools, and more.
A couples' oasis complete with romantic outdoor lighting and a relaxing spa setup
Entertainment for the entire neighborhood with a custom outdoor kitchen and rustic fireplace
Gorgeous gardens with colorful flowers, custom walkways, and more to complement the entire backyard
Custom Pool Landscaping
Most homeowners believe landscaping is mowing the grass and trimming bushes back from the house. That's not always the case, though. Landscaping also includes water systems, drainage, outdoor lighting, and walkways. Our team is experienced in all areas. We will help craft a custom pool landscape that is positively beautiful and welcoming.
Custom pools can come in any shape or style, and include all manner of fun and functional features that you've always dreamt of. For instance, textured pool surfaces, cleaning features, and unique shapes.
Other Outdoor Living Services at Lawn Connections
Contact Us
To schedule custom pool services in DFW, contact Lawn Connections by calling (972) 418-5296 (Dallas) or (817) 231-0042 (Fort Worth). We will bring your dream designs to life!