Expert Pool Design & Installation
Landscapers Also Offer Luxury Pool Remodeling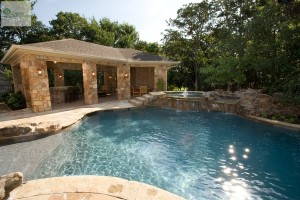 Summer's here, and it's time to hit the pool! Are you tired of crowded public pools or waiting to use a friend's pool? Or is your current backyard oasis showing it's age and begging for a facelift?
Lawn Connections' can work with you to get the pool you've always wanted. The perfect luxury addition to your outdoor oasis, a pool can be the ideal place to play, relax, cool off or exercise. It can also add to the value and look of your home. Start hosting parties at your house and have your neighbors and friends jealous of your pool.
To see many excellent examples of Lawn Connections pools, see our pool and water feature gallery.
Pool Design
Our landscapers are great at what they do, and can bring your vision to life. Our design team will sit down with you and discuss the shape of the pool you wish to have, the size you want, and the material you want to use. We know how to get just the right combination of aesthetic appeal and durability for the best outdoor living space.
We can also discuss what features you want your pool to include, such as LED lighting, a hot tub or a fire pit. The possibilities are truly endless, and when we're done planning, we'll get to work immediately installing your dream pool.
For all our luxury pool services, contact Lawn Connections today at 817-231-0042.