Roanoke Landscaping, Lawn Care & Mowing
Affordable Landscape Design and Lawn Services in Roanoke TX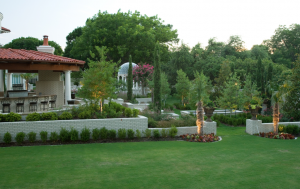 Trust and dependability are major factors when you hire a lawn care company or landscaper. Lawn Connections has been earning the respect of homeowners in North Texas since 1999, because we understand that your yard is an extension of your home. We treat your Roanoke lawn with respect, striving to deliver 100% customer satisfaction on every project, large or small. Our locally owned Roanoke TX lawn care and landscaping company uses only the best trained, most professional crew members. For great lawn care and landscaping services at competitive prices, you can expect the best from Lawn Connections.
For more about landscaping and lawn care in Roanoke TX, see these pages:
Roanoke Lawn Connections Offers:
Live Customer Representatives to Answer Calls
8AM-6PM Monday-Friday
Easy 5-Minute Sign-Up Process
Reliable Lawn Mowing Days
Convenient, Secure Online Ordering
Next-Day Service Available
Uncomplicated Lawn Service Plans & Estimates
Uniformed, Trained & Fully Insured Lawn Care Crews
Professional Lawn Care at Competitive Prices
Roanoke Landscaping
Our experienced Roanoke landscapers have the skill to listen to your dreams and translate them into practical reality. For Roanoke homeowners who want a whole new look, we can install an entire landscape "makeover" with a variety of different products.
Lawn Connections' team of highly skilled designers will work hand-in-hand with you to develop a lush outdoor retreat that you can enjoy for years to come. During our personal consultation, you receive an itemized list of materials and labor that will be required. We can provide a fully customized plan, or work directly from your own layouts, sketches, or photos. We offer: landscape lighting, landscape installation, patio covers, arbors and pergolas, landscape borders, decks, fire pits and fireplaces, outdoor living areas, stonework, hardscapes, and a variety of water features.
About Roanoke Texas
Roanoke, though its population is only 10,000 people, has become a prominent Dallas-Fort Worth travel destination because of its food culture. The city was named "Unique Dining Capital of Texas" in 2009. While there, you can find good eats that range from pizza, wine, European, barbeque, beer, and just about any other culinary treat.
Roanoke Lawn Service
We believe that our Roanoke lawn service customers deserve maximum value for the money they spend. We strive to offer lawn care for everyone, on every budget. That is why our services include lawn mowing, flowerbed and shrub maintenance, lawn fertilization, weed control, and pet waste removal services.
Please call at 817-231-0042 for more information about these topics or any other questions you may have about lawn care services in Roanoke, TX and the surrounding metro area.